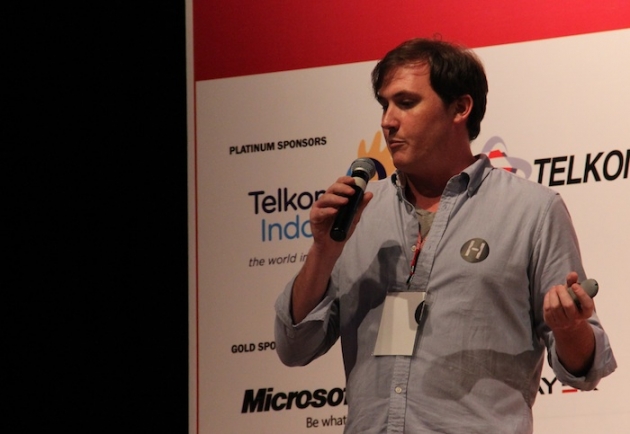 Picture this: Leaving digital messages at places you have physically visited before, telling stories, and engaging in future conversations with people who would eventually visit them. Harpoen does just that. We've covered the Indonesia-based startup before, and this afternoon at Startup Arena, the location-based messaging platform was first on stage to officially launch our competition and its latest version of the app.
For those who are new to Harpoen, it has the concept of having digital conversations appearing anywhere, allowing you rediscover neighborhoods within 50 metres in radius from where you physically are, even when you are moving. Users can see who has visited and what has happened previously. Imagine if something historical happens in that particular location, and the persons involved jots down first-hand. Future generations can enjoy receiving first-hand information instead from third-parties that could, highly possibly, be distorted.
| | |
| --- | --- |
| | |
| | |
| --- | --- |
| | |
In the newest update, co-founder John Patrick tells us that it has streamlined the features of the application. The new update has included a "around me" button, and also allows you to sort message interactions by timing, so the latest interaction will appear on top of the list. The app also allows you to add photos and puts a time limit to the messages, so after a certain period the messages would "evaporate". The app is already available on iTunes App Store, and prior to its official launch, it already boasts more than 33,000 harp views.
John also shared that they are looking to launch out of Indonesia, since number of iPhone users in Indonesia has the smallest slice in the country.
Benjamin Joffe from Plus Eight Star also commented that the pitch was lacking in a business model, and does not address the real problems of users. Daniel Saito from SkySQL echoes the sentiment. John acknowledges that, but however, also stresses that it is trying to create more situations where future conversations could be held, which makes dialogues even more meaningful.
This is a part of our coverage of Startup Asia Jakarta 2012, our startup event running on June 8 and 9. For the rest of our Startup Arena pitches, see here. You can follow along on Twitter at @startupasia, on our Facebook page, on Google Plus, or via RSS.