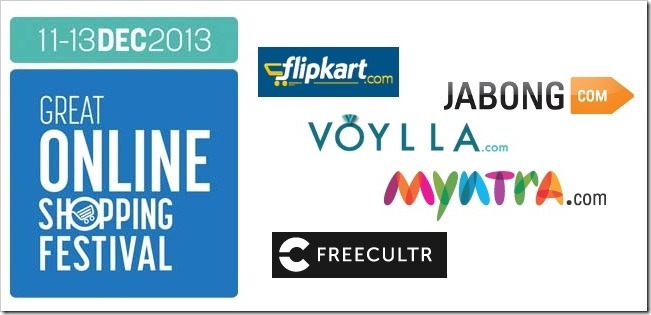 The 'Cyber Monday' concept, basically an online shopping festival with huge discounts and sale offers, has been around for the past few years. The concept is hugely popular in the US, which has a mature e-commerce industry.
However, the concept is already making inroads in Asian countries like India, Thailand, and China, but with local colors and flavors. While a great way to attract users to e-commerce retailers and drive sales, it is also a true test of that online platform's resilience.
Emulating Cyber Monday's success, over 200 brands, businesses, retailers, and stores across India came together for an ambitious three-day online sale fest starting December 11, which they called the Great Online Shopping Festival 2013.
Unfortunately, while these brands, businesses and retailers were busy publicizing and marketing the online mega sale, #GOSF failed epically on the first day, and the promoters were unable to fix the technical glitches faced by most users. In fact, the technical issues were so bad that the website was inaccessible for the most part of Wednesday.
The incident caught the media's eye and went viral on social media. It led to a blame-game among the promoters and service providers. However, that's not the point I want to discuss here. For me, the key question is, "How well prepared are today's e-commerce platforms in India?"
From my observations, when over 200 brands, businesses or e-retailers join to form a single platform like #GOSF, then the platform needs to be thoroughly tested not just from a technical aspect, but from user aspects like interface and accessibility.
Taking a closer look at yesterday's #GOSF failure incident, I assume the promoters or organizers were unprepared with the unprecedented flow of visitors and didn't have a backup plan to meet the unexpected eventualities.
For me, this incident offers key lessons for any e-commerce player. The first is to check and test the robustness of your e-commerce or web platform.
Secondly, should the worst happen, figure out how the platform be restored in the shortest time possible.
Thirdly, there needs to be back-up systems and additional resources that can take control of the failed platform while the technicalities are being resolved or fixed.
The fourth key lesson is the security of the platform which deals with protecting users' personal and financial data.
The #GOSF failure is certainly not the first time an online platform has failed or crashed in India. In fact, last month India's KyaZoonga, an entertainment and sports ticketing portal designated to sell tickets for the India versus West Indies test cricket series, suffered a major crash when it saw an unprecedented number of visitors. Many of them were fans of cricketing icon Sachin Tendulkar and wanted to see his final 200th test match.
I would like to conclude by saying that branding and marketing are key parts of any business. But when it comes to online businesses and e-commerce platforms putting on big promotions, more time and effort should be spent on the foundational technology required for them to be successful.
(Editing by Paul Bischoff)