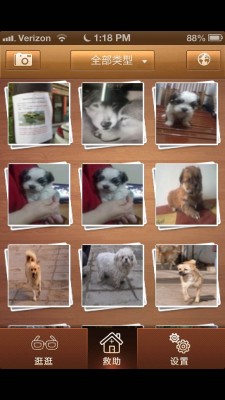 As a relatively new dog owner, I'll be honest — I haven't really integrated my dog ownership with my digital life all that much. Aside from spamming my Facebook friends with pictures of our puppy, I don't really have any dog apps or anything like that, so when I stumbled across the Beijing-based mobile startup Haogougou ("Good Doggy"), I was curious as to what kind of dog-related apps were even possible.
Good Doggy currently offers two separate iPhone apps, both free. The first is "Good Doggy Rescue" (pictured at right), a cool social app that allows you to browse photos of street and rescue dogs up for adoption, and contact the people responsible for them if you're interested. It also allows for simple photo browsing if you're just in the mood for looking at some dog pictures. The social rescue service is a cool idea; and the execution is not dissimilar to web services like Baidu Xunren that help parents search for street and kidnapped children to rescue. It's cool that "Good Doggy" is providing this service matching dogs in need with potential "adoptive" parents, and the app is smooth and very simple to navigate.
The other app, "Doggy Diary," doesn't have the same kind of social significance, but it's still fun. Basically, it allows users to upload photos of their dogs along with little "diary" entries like those pictured below (the black german shepherd, Maya, is ours). These are then shared with everyone else who has the app, and users can browse through to check out cute photos and see what other people's dogs are doing with their days. Yes, this is technically an even bigger waste of time then checking out the pointless status updates of your human friends, but hey, sometimes people just like to look at pictures of cute puppies. That's what this app is for.
| | |
| --- | --- |
| | |
Both apps seem to be well put-together, although I did have a few issues with crashing when I tried to apply one of the built-in photo filters in "Doggy Diary." Luckily, that's the less important of the two apps anyway, and nothing else about the app (including the other photo filters) caused a crash, so I assume it's just a bug that will likely be fixed soon anyway.
Neither of the apps ran any ads during my time with them, so I have no idea how Good Doggy is making money — perhaps it's just focused on growing the user base right now. But I had enough fun with the apps that I recommended them to my wife, who loves taking and sharing photos of our dog on weibo already. Neither app seems to have a very big user base just yet (though it's hard to be sure as both allow for anonymous posting without registering a user account), but there are already enough people that it isn't just the same dog over and over again. Dog ownership is already big and growing in China, so I expect that with the right marketing, Good Doggy will definitely find a market.