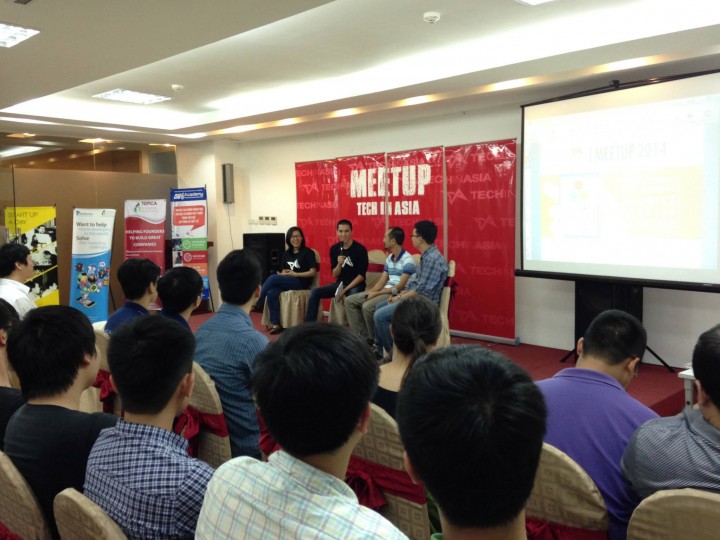 In April, Tech In Asia had its first Meetup in Hanoi. We welcomed over 200 people to listen to Dung Tran, founder of mWork, and Do Tuan Anh, founder of Appota, to talk about their experiences building a mobile company in Vietnam and advice for young startups eager to tackle this space.
The great thing about this interview is how honest and hilarious both of the speakers are. They're long time friends and poke fun at each other throughout. From Tuan Anh's car to Dung's beard, the two get personal while also getting really intimate and honest about what it takes to be a startup leader in Vietnam. The entire interview is in Vietnamese, but we've translated it to English with subtitles for our international readers.
(We've also got a new meetup coming soon in Ho Chi Minh city with awesome speakers like Esther Nguyen from POPS and the famous blogger, Toan Shinoda)
The dynamic is even more colorful when you realize that many people who used to work for these two men are in the room (some even ask questions at the end), making the atmosphere even more honest and raw. Thus, we recommend you watch the video all the way through, but for those with less time, here are some highlights:
Appota received funding at the beginning of 2012 and spent all of it by the end of the year.
Dung failed many times before starting mWork. He even failed opening a PR agency, and came back to FPT to work.
Dung says Vietnam's mobile games market is a billion-dollar market right now.
Dung also says that ecommerce is likely the next big wave about to hit the mobile market.
Anh says that Appota's biggest goal moving forward is to build on Vietnam's startup ecosystem more.
Dung says after 2015, it is likely that the market will become more stable so it will be harder for startups that are not truly unique to enter the market.
Dung believes there are three key elements that can lead to success: choosing the right sector, choosing the right model, and recruiting a good team
Anh believes that the key is synchronizing what we love with what the market needs.
You can catch the whole interview below:
Finally, we'd like to thank our friends at Hatch, Topica, VTC, and Aiti Education, who helped us with promoting our event into Hanoi's growing ecosystem. We'd also like to give a warm thank you to Techcrunch, who sponsored an afterparty for the audience.