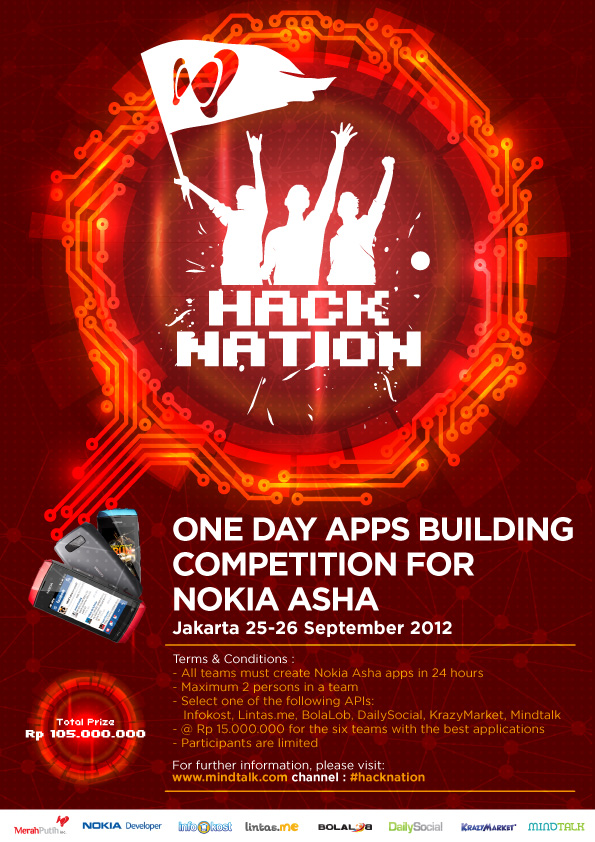 Indonesia's Merah Putih Incubator (MPI) together with Nokia will hold a 24-hour hackathon called HackNation. Developers will create mobile apps out of the available APIs to be used on the Symbian-based Nokia Asha 'full touch' phones. The APIs will come from Infokost, Lintas.me, BolaLob, DailySocial, KrazyMarket, and Mindtalk. Here are a few more details:
Time and Date: Starting September 25th at 2pm to September 26 at 3pm.
Venue: Four Seasons Hotel, Jl. H.R. Rasuna Said, South Jakarta, 12920
Total Prize: IDR 105 million (US$11,000) to six winning teams. Each team comprised of a maximum of two persons.
Registration fee: Free
For more information and registration, you can check it out here. You can also see the available public APIs there.
[Updated on September 21: The poster date is revised. Edo from MPI also noted that the competition is targeted towards people who are accustomed to Java 2 Micro Edition (J2ME). Which means that developers of Java based mobile platforms or web based programming languages are qualified to join this competition.]
[Updated on September 25: We changed the headline too. Sorry.]