Singaporean Steven Goh was on Interpol's wanted list for being a black hat hacker.
But the law grabbed him by the tail. Nine years ago, He was arrested by Singapore's Criminal Investigation Department (CID) for coordinating a large-scale global botnet — which involves infiltrating a massive number of computers through malicious software. He was 17.
Steven thought he was going to jail, but fate yielded him a second chance. The CID decided to let him off with a stern warning after two years of investigation. He secured a place in the National University of Singapore too. Steven then decided to channel his independent streak towards something entirely different.
"The day I spent in lock-up was the day I turned into an entrepreneur," said the NOC alumnus.
Today, he is the founder of Spawt, a free mobile app for iOS and Android that helps users discover experiences around them. Steven bills it as an "intelligent and social city guide" that aims to be the "Google of real life". It is targeted at the United States and Singapore market.
Right now, the app is a minimal viable product. It contains mainly data from HungryGoWhere in Singapore and Yelp in the US. Once you access the app and sign in with Facebook, Spawt recommends eating places based on your current whereabouts.
Undergirding the service is a number of technologies aimed at understanding your behavior patterns, the time of the day, and your geographical location. The data is then used to make personalized recommendations. Behavior patterns are determined by machine learning and behaviorial science algorithms, which means that over time, the app will understand you better and give more relevant suggestions.
The app procures information about places using crowdsourcing and web-scraping.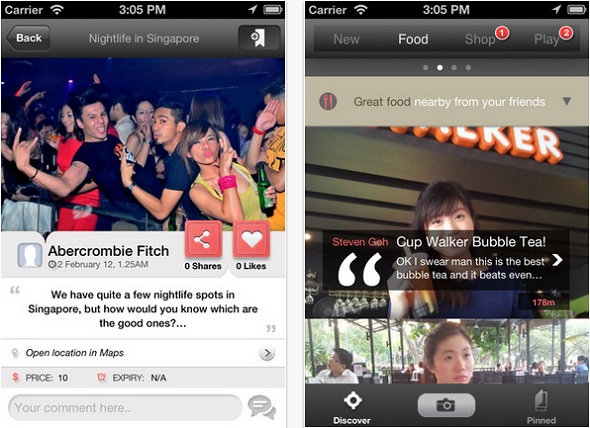 The company has barely left the starting block — their Android app has been around for about a month, while the iPhone version launched about a week ago. It has secured funding of an undisclosed amount from Crystal Horse Investments and MDA iJam, one of the two offers Steven considered.
"I eventually went with Crystal Horse Investments who seemed to be more liberal and had a focus towards the American market (rather than Chinese market)," he told KillerStartups.
Joining Steven full-time at Spawt is Nicole Tay,  a freelance web designer, SG Geek Girls member, and NOC-er who is passionate about startups. She is tasked with improving the app's user interface and leading the company's marketing efforts.
At this point, Spawt is focused on product development and traction, and as such monetization isn't a concern yet. Nonetheless, it is looking at location-based advertising as one possible revenue source.
"What sets us apart from all the other startups that fail at this space? Intent. Users are already using the app to discover what to do next, that really means that they are looking for the next business to spend money on," said Steven.
He is also considering mobile niche guidebooks and online ticketing as additional avenues. All of which will work only if they have a large user base, which leads to massive sales.
Ultimately, Steven envisions Spawt as a recommendation engine that can suggest not only restaurants, but also clubs, pubs and any venue with interesting activities. In other words, he hopes to out-Google Google.
His ambition underlies the challenge that the company faces: Google has been pre-occupied with giving users intelligent recommendations for some time, and its Google Now, a mobile, voice-activated search assistant that will be available in Jelly Bean, Android's next incarnation, has been touted as being superior to Siri.
Apple won't take it lying down in the high-stakes battle for the future of mobile, and it is constantly making improvements to its wisecracking digital assistant.
So whether Spawt prospers in such an environment would very much depend on the technical expertise, as well as designing and marketing chops it can muster. While it is certainly an underdog, the startup could bring with it new perspectives, ground-up insight, and nimbleness that might give it a crucial edge.
Plenty of luck helps too. And Steven, having used one Get Out of Jail free card in his life, knows that all too well.