Yes, more music streaming services are arriving in Indonesia. The latest one is Australia-based Guvera. The company is working together with Skybee (SKYB:Indonesia), an IT company listed on the Indonesian stock market, to enter the archipelago country.
However, in contrast to Guvera's freemium business model in Australia, Indonesia is a full-on subscription service. Skybee CEO Pontus Sonnerstedt explained on DailySocial that they are using the subscription model because of the agreement the team made with local Indonesian labels. He didn't rule out the possibility of a similar freemium model in the future.
A monthly subscription costs IDR 55,000 ($5). They can make the payment using either a credit card or a local e-wallet service called Doku Wallet. The team says it plans to let Indonesians pay in cash in the future, but did not disclose specific details.
Indonesians only get a five-day free trial when they sign up on Musik.Guvera.com. Indonesians who register via Guvera's home page don't even get a trial period.
Guvera aims to help fight music piracy in Indonesia. They believe the service's ease of use, price, and payment options can encourage more Indonesians to use their service and stream legal music.
Guvera now has six people on the ground in Indonesia, but the team plans to hire as many as 20 this year. Guvera CCO Michael Wallis-Brown says they are very committed to Indonesia, and will show that commitment in the months to come.
Worth your money?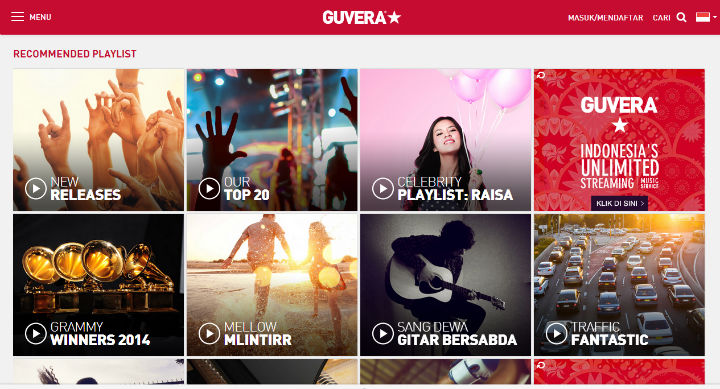 I must admit that it is very easy and simple to use Guvera. The overall user experience feels good, too. The service comes equipped with local music and playlists. Guvera cooperates with local music labels Aquarius, Musica, Nagaswara, and Trinity, as well as international labels like EMI, Sony, Universal, and Warner. In total, Guvera offers over 10 million songs to stream online and offline.
The local playlists – like "Mellow Mlintirr", "Traffic Fantastic", and "Sang Dewa Gitar Bersabda" – cater to music trends in Indonesia . Right now, the only celebrity playlist available is one made by female singer Raisa, but the Guvera Indonesia team says you can expect to see more playlists by local celebrities soon – both musical and non-musical ones.
Guvera isn't perfect, though. The website's dashboard loads quite slow, and the service constantly skips tracks when they are not fully buffered. So when my slow internet doesn't keep up with the streamed music, instead of waiting until it loads, Guvera just skips the track. Slow internet speeds are very common in Indonesia, so hopefully the team can find a solution.
Besides a browser-based player, Guvera apps are also available on Android and iOS, which allow you to make tracks available offline.
Ohter online music streaming services in Indonesia are LangitMusik, Melon Indonesia, Deezer, Ohdio 1, and MeTunes.
(Read also: Deezer pushes music streaming service in Indonesia with rock star tie-up)
(Editing by Paul Bischoff)
---
Disclosure: East Ventures invests in Ohdio and Tech in Asia. See our ethics page for more information.↩