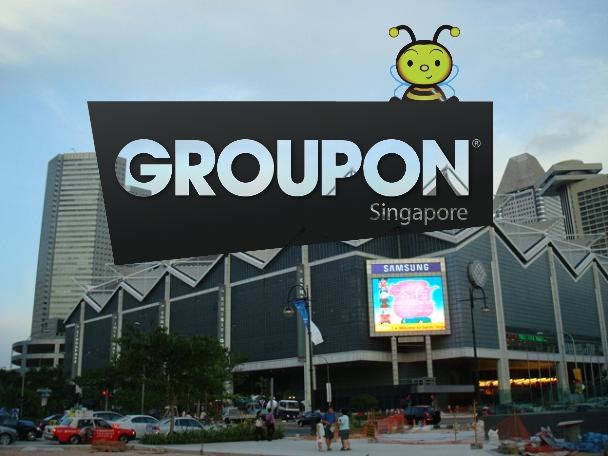 As some had expected would happen, Groupon Singapore will be launching Groupon's (NASDAQ:GRPN) first-ever retail store on July 4, according to an official announcement from the company (in the form of a media invite to the opening). It'll be strategically located in the Suntec City Mall (pictured above).
With the launch of the new Groupon Shore, it aims to connect better with Groupon fans by bringing the deals to the physical store itself. And having it located in Suntec, which is in the heart of Singapore, makes it even easier for Singaporeans to visit the store.
But, as our friend Jon Russell from TNW points out on Twitter, ZDNet noted the opening of a Groupon store in that mall a few weeks ago. In retrospect, that seems to have been a soft-launch, and this July 4th event will be the proper launch.
Aside from that confusion, what comes to mind, however, is why? Why is this a good move for an e-commerce company that generally has low overheads? No doubt having a physical store allows you to have the personal touch and puts a face to the Groupon name. But I wonder what more this first Groupon store entails. In fact, within the e-commerce space in Singapore, popular blogshops such as tracyeinny and MDS have also set up physical shops to perhaps connect better with their customers. But their prices are seemingly more expensive too.
I guess we'll be able to find out more when we attend the launch this July, to speak with Karl Chong and Adrian Tan, CEO and COO of Groupon Singapore, who will be present to open the store.
[UPDATE on June 22nd] Groupon Singapore has asked us to point out the following:
To celebrate Groupon's brand new Groupon Shop launch, Groupon is giving away S$50 vouchers to the first 50 visitors dressed in green. Details below:
Date: Wednesday, 4th July 2012
Time: 11.00am to 9.00pm
Venue: Groupon Shop, Suntec City Tower 3, 03-27 G-L (at Cinema Level)
See you there!