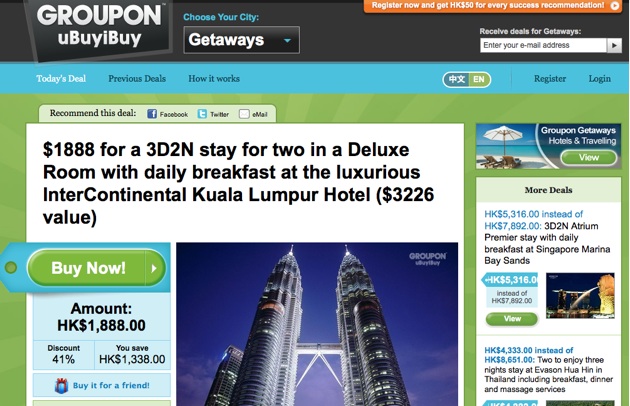 There's some mixed news for Groupon in the Greater China area today, with the opening of Groupon Hong Kong's brand-new travel deals section being tempered somewhat by new data from Taiwan that shows the site's market share slipped slightly – though it's still number one.
Groupon.hk – which is available in both Chinese and English – launched its travel deals portal (pictured above) yesterday, featuring package holidays, flights, and cruises. The site offers discounts as high as 90 percent on some deals. With some very upscale partners, including the InterContinental hotel chain, Groupon will be hoping that its new segment will bring more big-spending users onto the site.
Meanwhile in Taiwan, July's group buy market figures show that the whole sector grew by 8.3%. Groupon's Taiwan operations lost a small amount of market share, and didn't really ride that growth. Groupon.com.tw retains 47.7 percent of market share there, down from 48.1 percent in June.
Gomaji is a distant second with nearly 24 percent share. The mainland Chinese site Nuomi.com – which has received a lot of investment from the social network Renren Inc. (NYSE: RENN) – is a newcomer in 11th spot in the Taiwan market. Here's Taiwan's group buy top eleven:
With LivingSocial set to expand around south-east Asia, almost certainly including Taiwan, the island province's market will get even tougher.
Groupon's successes in HK and Taiwan contrast starkly with its rough ride in mainland China, where it goes by the name Gaopeng.com under a joint-venture with Tencent. Just last Friday we reported rumors of job lay-offs and a lack of cash. A Groupon PR rep later confirmed with us that some personnel have been let go, but as part of a routine trimming of underperforming staff, not a restructuring.
[Source of Taiwan market figures for July: Goodlife.tw, via TechOrange]