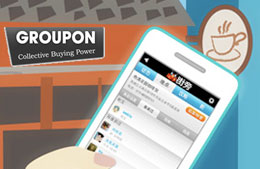 This is when group buying fusions with location-based service (LBS) in Asia: Groupon Hong Kong has made the initiative to partner with Chinese location-based service, Jiepang (loosely translated as street side).
For those who don't know, Jiepang is a location-based service founded by David Liu. Liu tried Foursquare in the U.S and felt that this service would be welcomed in China.
He was right. Funded by angel investors, Jiepang was launched on 13 May last year and has become popular among Chinese smartphone users. Jiepang also works with several companies including Tuan800 and now Groupon Hong Kong.
The partnership will offer Groupon HK's deals through Jiepang mobile app. The deals will be offered either through users' location or as "venue of the day" offers. Groupon Hong Kong is currently firming the partnership details with Jiepang.
Currently, only deals in the U.S are offered through the iPhone app. This partnership will provide consumers with a new channel to participate in group buying in Hong Kong. The move is logical and strategic. About half of Hong Kong's 7 million populations are smartphone users, according to TNS Global's research last year.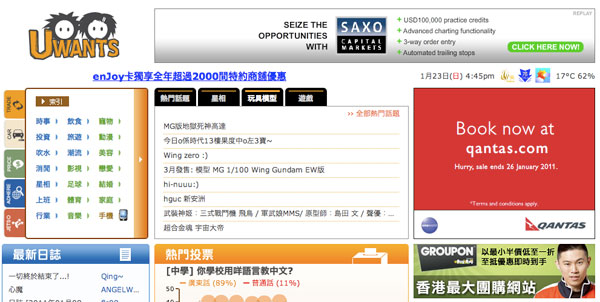 Groupon Hong Kong was formed after Groupon's acquisition of uBuyiBuy in December 2010. In a short span of 1 month, Groupon Hong Kong has already established partnerships with MSN HK, Sina HK, discuss.com.hk (a local discussion forum) and Uwants.com (a news site / see above) to reach out to more consumers. Danny Yeung, CEO of Groupon Hong Kong, said that his company has more than 350,000 daily subscribers and over 180,000 fans on Facebook.
Groupon Hong Kong is a localization success story. Groupon understands that it cannot gain global domination through its own effort. The clones are just too much to handle and defend against. Instead, Groupon acquired those that are dominant in their local markets. The acquired companies understand the local markets better and are able to expand within the countries more effectively and efficiently. Groupon's result in Asia is impressive so far. But it remains to be seen if it can conquer China. With Tencent's knowledge in the Chinese market, we shall see if Groupon is able to replicate the same success in world's largest online market. The partnership will probably do fine, unless Alibaba has something special up its sleeves.