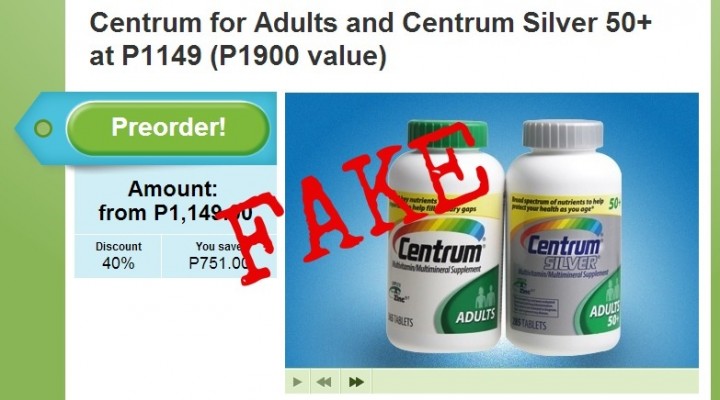 In recent years, the emergence of daily deals sites has helped grow e-commerce in the Philippines. This alone tells us that Filipinos are now trusting online stores.
However, the Philippines' Food and Drug Administration (FDA) has revealed that Beeconomic, the Philippine arm of deals giants Groupon, sold counterfeit multivitamins and mineral tablets.
The Centrum and Centrum Silver multivitamins were sold at Php 1,149 ($26.64) for 365 tablets, inclusive of a discount of 40 percent. Beeconomic's listing also stated that the items were 100 percent authentic. They were sold in August.
According to the FDA, it "has not yet issued any guidelines on online sale or advertisement of pharmaceutical products" and it warns the public against buying medicines online "until such time that the FDA can assure the safety, efficacy and quality of medicines sold through this medium."
The regulating agency also urges the public to report via email any person or establishment that is illegally advertising and selling medicines – whether they're genuine or fake.
Groupon Philippines has yet not commented on this matter.
Side effects
Apart from the clear danger of fake medicines, this incident may have a bigger effect on the e-commerce industry in the Philippines.
E-commerce in the country has just started to gain momentum. And as the saying goes, one bad apple can spoil the whole bunch. This could lead to consumers distrusting the whole concept of e-commerce for fear of being deceived.
This has happened before. CleverBuy closed its Manila office after collecting payment from travel deals which the buyers never got the chance to redeem. This caused people to shy away from such deals for a while.
Scrutinizing the process
E-tailers in the country need to earn back consumers' trust. One solution is a strengthened filtering process in terms of the items and the merchants that a site partners with. Above all, items should not be fake – whether vitamins or handbags.
In Groupon's terms and conditions, section 6.3 states that "Groupon warrants that it will undertake its obligations with reasonable skill and care." However it also adds in section 6.5 that:
Partner (the merchant) expressly warrants to Groupon that the products and voucher services it offers to the public and sells to the purchasers are authentic and genuine and that it has the right to offer or sell said products and voucher services. In the event that this warranty is breached or violated, Groupon, in addition to the provisions of Section 6.3, may hold the partner liable for damages in an amount not less than Php 100,000.00 ($2318.60) and reimbursement of any legal fees that Groupon may incur in relation to this breach or violation of warranty.
So the merchants are liable to Groupon, but the risk is worth the reward for some fly-by-night counterfeiters.
Another daily deals site, Cash Cash Pinoy – which sources its own goods, rather than serving as a platform for merchants – says it stands behind the authenticity of everything it sells. On every item posted on the site, it shows an authenticity guarantee that says if consumers feel that the item they purchased isn't authentic, they can get their money back.
What can consumers do?
Filipinos love shopping and discounts. But it's the consumers who get screwed when things go wrong. Of the countless daily deals sites that laucnhed in the country over the past few years, more than half of them have already closed down – that's another hindrance to winning trust.
Shoppers can safeguard themselves online with a bit of research before purchasing. Here are some guidelines:
How long has the site been operational? – Is it a stable business? Try to find out the number of months or years the site has been running. More established should mean more trustworthy. But as we've seen, even Groupon can mess up.
Social media and forums are your friends – Unhappy customers will always pop up on social media – perhaps even in your own Facebook news feed. Also check out forums This is where people talk about their experiences with specific daily deals sites.
Learn about the merchant – Groupon Philippines and Metrodeal are two of the many daily deals sites that get deals from various merchants. Do you know the merchant? Is it well established? Does it have a physical store? These are some of the things you need to look at, too.
When in doubt, don't – Limited information? Negative feedback from other customers? Price too good to be true? Basically, if you are still in doubt, better to skip the deal than to lose your hard-earned money or go through the hassle of refunds.
(Source: Inquirer.net)
(Editing by Steven Millward)