The Chinese group-buying site Meituan has ended 2011 as the market leader in this highly competitive sector in the month of December. And so if we look back at the previous year, Meituan can be crowned the daily deals king in China by a tiny fraction from its main rival, Lashou.
These stats come from the group buy aggregator and analytics company, Dataotuan. For the December figures it looked at 125 deals sites across 345 cities.
Last month saw the further rise of 55Tuan, rising to be second in terms of market share. Lashou, once the leader in this industry, has suffered quite a knock, dropping down to fourth: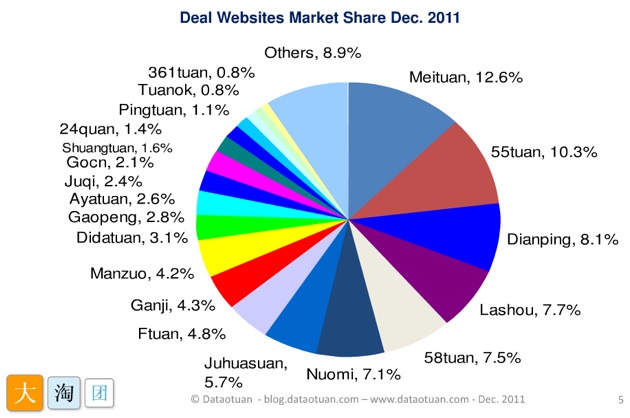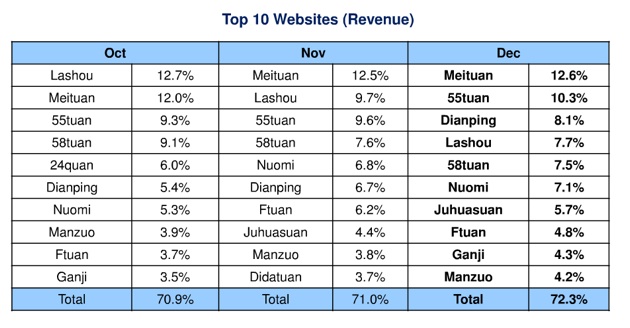 Lashou's drop might well be due to a lack of popular deals. That's something that Dianping, Nuomi, and Meituan are doing – as they often seem to do – very well: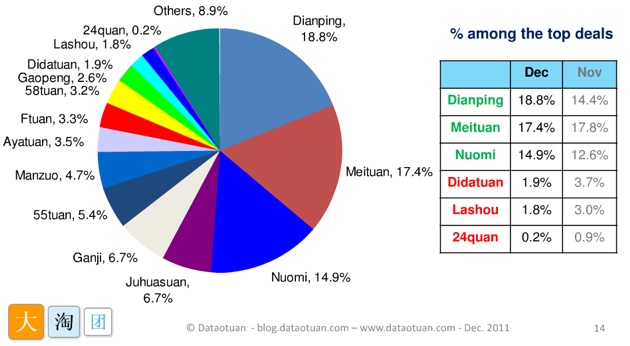 Compared to the last time we looked at the deals market in the country, the average price of a deal went up a meagre 3RMB to now be at 140RMB (US$22):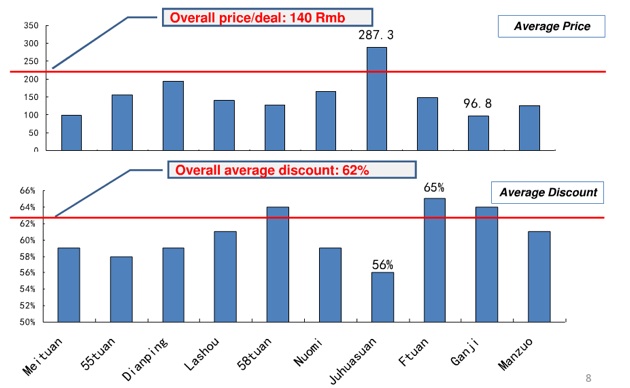 ---
2011 Daily Deals Sector in Summary
Looking at 2011 as a whole, Dataotuan observes that the top 10 deals sites take 71.8 percent market share of the whole industry – while the top 11 to 20-placed websites fight over 16.7 percent share. The remaining crumbs are scrapped over by literally thousands of rivals: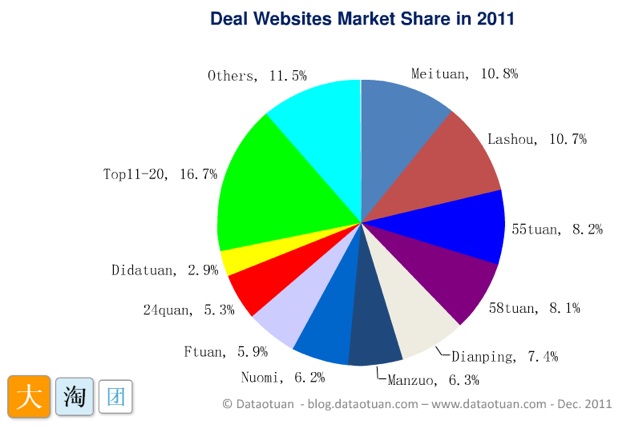 So, despite a number of controversies at individual Chinese deals sites, and industry-wide issues such as customer complaints and some sites way behind in paying merchants, the whole sector has somewhat stabilized and a clear hierarchy has been plotted out. But that doesn't mean that 2012 will be any less competitive.
For the full stats, plus some insights from deals sites across Asia, hit the source link below.
[Source: Dataotuan]