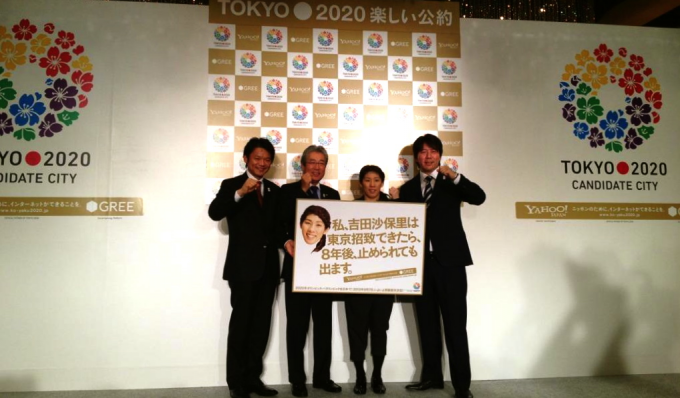 GREE (TYO:3632) and Yahoo Japan (TYO:4689) have announced today that the companies will co-sponsor Tokyo's 2020 Olympic bid. Beginning on December 26, both companies will roll out advertising in newspapers, public transport, and on the streets.
GREE and Yahoo Japan have helped to set up a website (ko-yaku2020.jp) where the public can pledge their support for the 2020 Olympic bid, along with celebrities and sports figures who have already done so. In a somewhat humorous way, you can write down what you promise to do if Tokyo is successful in its bid. As you can see below, GREE's CEO Yoshikazu Tanaka has pledged to make Tokyo a little greener by planting 2,020 plants in the city.
I really like that both these companies are throwing their support behind the Olympic bid. Although I can't help but observe that this further illustrates the divergent strategies of GREE and its rival DeNA. GREE has been very aggressive in its marketing over the past year or so, with a huge presence at the Tokyo Game Show and E3, while DeNA took a pass. The company had billboards in San Francisco and ads in airports around the world.
But despite all this, it appears that DeNA has had the better year, both in terms of revenue and in terms of mindshare among gamers with its hit card battle title Rage of Bahamut, which we learned today has surpassed 10 million users.