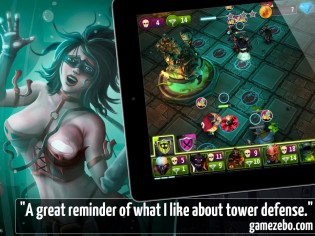 Yesterday Japanese mobile gaming giant GREE (TYO:3632) announced a partnership with Brazilian game developer Vostu, the leading social games company in Latin America. And now just a day later, GREE has announced another tie-up in the region, which will bring Vampire Season – Monster Defense to its GREE platform.
The title is developed by Brainz, which is part of Columbia-based ZIO, one of the top 3D animation and media studios on the continent.
According to the announcement, the company worked closely with GREE recently to improve the game, rebuild levels, and introduce currencies in the game. Vampire Season – Monster Defense is a tower defense game where players assume the responsibility of protecting Count Dracula from an onslaught of bad good guys. The 3D graphics look pretty sharp, and I'm looking forward to checking this one out.
The game is available for iOS currently, and it will be coming over to the GREE platform in the next few weeks, along with an Android version as well. For a preview of how it looks, check out the trailer below.
For GREE, this partnership marks the second step in its explorations in Latin America, after it established a subsidiary in São Paulo, Brazil earlier in the year to facilitate such activity.