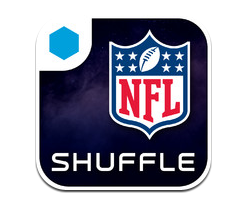 Japanese mobile gaming company GREE (TYO:3632) has quietly pushed out an NFL-branded card battle game for iOS late last week called NFL Shuffle. This comes on the heels of a similar MLB title which came out this past October, and has fared ok in the 'sports' and 'role playing' categories.
Speaking as a big fan of NFL football and as someone who is warming up to the card battle genre, this was a game I was excited to try out. You start out by picking your offensive and defensive captains for your team. From there you take them into battle in either season or versus mode. In games, the value of your card in comparison to your opponent's determines your chances of moving forward from the line of scrimmage. If your opponent has a higher value card on his defensive squad, you'll want to use one of your limited 'swaps' or 'shuffles,' or else you run the risk of a fumble or interception.
You have four downs to go the length of the field, and if you don't score, the ball is turned over to the other team. There are no kickers or punters in the game, so you're limited to quarterbacks, running backs, and tight ends on offense. In order to build a better team, you can collect new cards and evolve them via the mentoring feature. Although for me, I found that this card evolve function just stopped working after I reached around level 10. Hopefully that can be fixed in an upcoming release. Update: It appears to be working fine now. But there are still some bugs with some of the goals you're required to complete.
Users can also collect gold as the seasons go on, giving them the ability to buy premium cards. In my own game so far, premium cards have been Darrelle Revis, Andre Johnson, and Donald Brown [1]. If the evolution function hadn't broke, I might have really enjoyed merging my crappy cards to boost them even further.
Overall it looks like a really promising game. And assuming that the early bugs get fixed, I think it could be one my favorite GREE games to date. But it remains to be seen if it's something that most NFL fans would go for.
I do recommend that football fans out there give it a try and let us know what you think [2]. It can be downloaded now from the US app store.