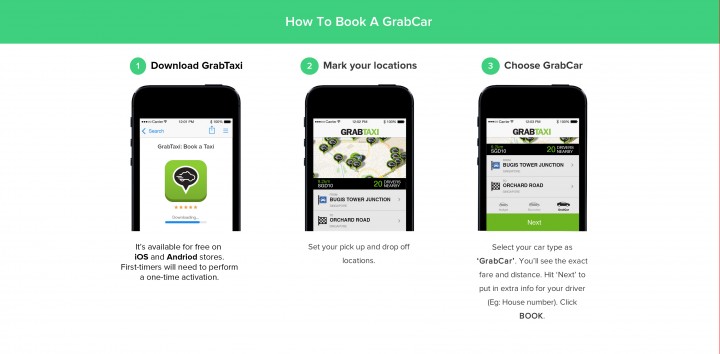 Raring to go from raising its biggest funding round to date – US$15 million led by GGV Capital – GrabTaxi is now accelerating its expansion in Singapore with the launch of its Uber-esque GrabCar service here.
Through data gathered by the team since GrabTaxi was launched locally last year, there are still pockets of time when the demand for taxis is not fully matched by supply – especially during peak hours, according to Anthony Tan, founder and CEO of GrabTaxi. GrabCar is their solution to this problem, allowing them to meet the demand without taking away business from their core user base of taxis.
"The inclusion of GrabCar as part of the GrabTaxi service […] offers them [customers] access to a wider network of taxis as well as premium cars," says Tan. " [GrabCar] will give our passengers that personalised experience, while at the same time, ensuring quick, safe and reliable rides."
To book a cab, all passengers need to do is select 'GrabCar' as their 'car type' in the GrabTaxi app.
See: Why GrabTaxi is giving Singapore's largest taxi operator a run for its money
The launch of their premium service in Singapore is a direct challenge to Uber's presence here. While GrabTaxi currently has the second largest fleet of cab drivers locally, it remains to be seen if they can replicate their performance with luxury car hires.
With already-high car prices steadily increasing locally, GrabCar's service might just be what citizens need. According to Lim Kell Jay, general manager of GrabTaxi, the aim of GrabCar is to provide passengers with the perks of car ownership, minus the hassle – and certainly, minus the cost:
We deliver you from doorstep to doorstep so that you don't have to worry about parking and the changing driving conditions in Singapore – simply leave the driving to us. Also, speed remains our biggest priority – backed by the same promise as GrabTaxi, we are working closely with our partners to ensure we have sufficient quality drivers to back the demand.
Across the region, the GrabTaxi mobile app has been downloaded 1.5 million times,  and they claim to have about 270,000 users per month.