Some GrabTaxi users are bewildered by a message they received on their phones: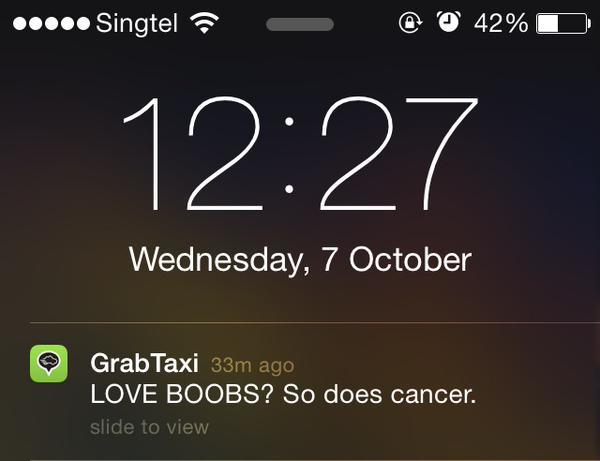 Sent as part of their #GrabitBeatIt breast cancer awareness campaign, the notification is stirring up a storm on social media:
I'm in a meeting. Now isn't the time for your weird shit, GrabTaxi.

— Olivia Claire (@OClaire1029671) October 7, 2015
I find the Grabtaxi boob sms distasteful. I think family history of boob cancer might have something to do with it.

— Minty Mintea (@mintea) October 7, 2015
Lol Grabtaxi! Good job on trying to capture my attention. ???? pic.twitter.com/Zjp0GtvoSy

— nfaezah (@swrlymon) October 7, 2015
@melyhstewart HAHAHA but so confusing, GrabTaxi, love for boobs then cancer wtf

— Aundraj Jude (@AssThrowKnot) October 7, 2015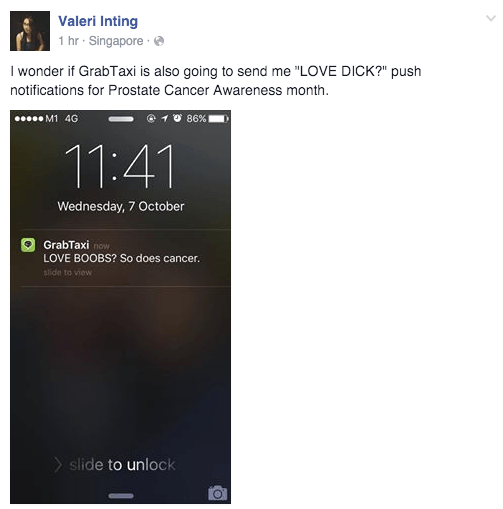 This is what users see when they slide into the app from the message: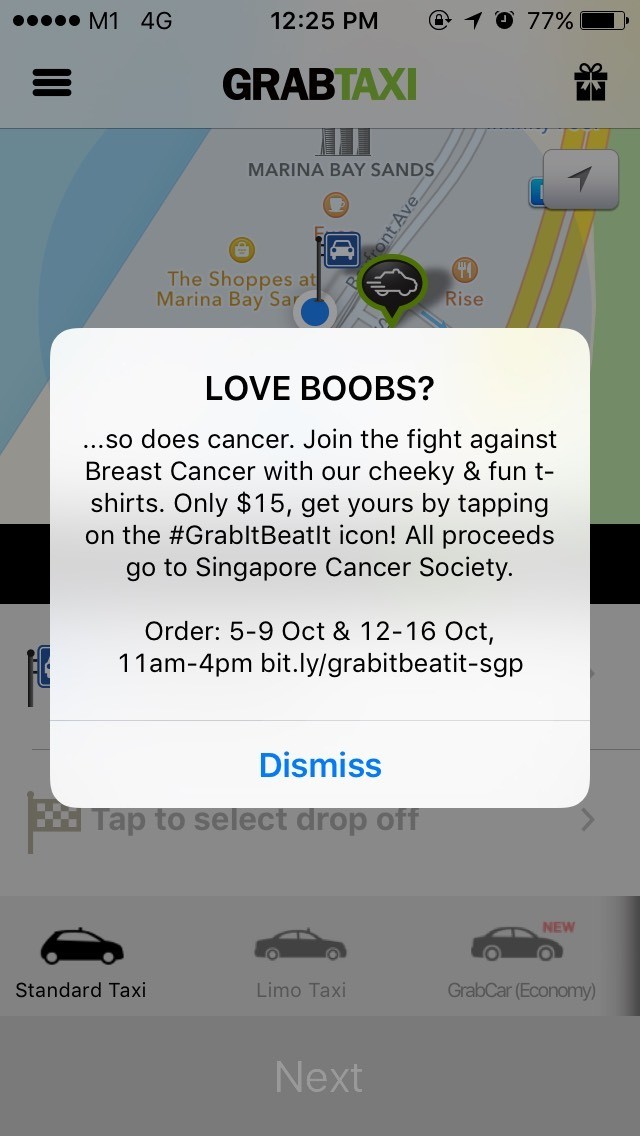 "Love boobs?" is actually the slogan they're using to draw attention to their campaign. It's certainly working.
The slogan is being plastered on cars: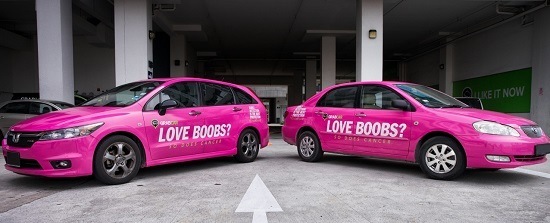 It's even part of a mailer, though reworded: "Love Lady Lumps?"
But what got people talking was the notification. Perhaps it was because it was literally in-your-face, displayed in a device people consider private and intimate. It took them by surprise.
People are now talking about the campaign, but for the wrong reasons. When I passed the image around the office, some felt the tone was off and trivializing the issue.
"There is nothing funny or playful about breast cancer and using terms like 'lady lumps' or 'boobs' makes it feel like the campaign was created by teenagers who want a good laugh instead of extending empathy," says a colleague.
Despite GrabTaxi's missteps, it has to be said that the company is supporting a worthy cause, and their intentions should be applauded.
Just be careful about what you send to people's phones.
Update on October 7, 6pm Singapore time:
GrabTaxi has apologised for their campaign. It sent out a series of tweets: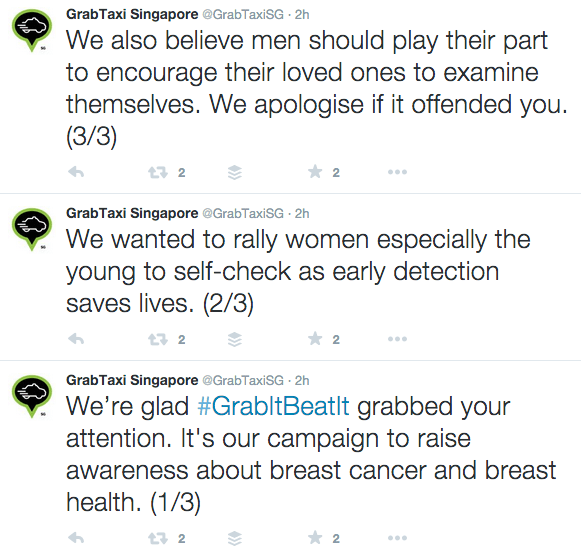 The furore has made it to other media, including Mumbrella, Coconuts, Malay Mail, and Marketing Interactive.
Cheryl Goh, GrabTaxi's group vice president of marketing, says in a statement: "There have been mixed reactions to the taglines for our #GrabitBeatit campaign, and we apologise that it comes across as insensitive to breast cancer survivors, their families and the wider public. Breast cancer is not a trivial issue and we regret that the taglines are not reflective of the seriousness of the issue."