Though very simple, 'captcha' technology has been very important for netizens to filter out spammers. Now an Indonesian startup called Gotcha.in is looking to jump into the market with its own version of captcha, which no longer requires site visitors to type given words, and giving website owners a way to make money in the process. Gotcha lets you verify yourself as a human by dragging and dropping pictures according to the given question (pictured below):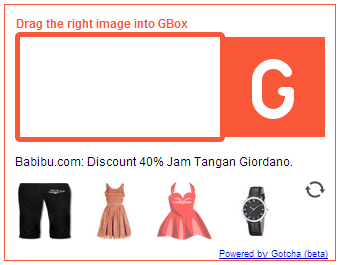 How does Gotcha make its money? Ads. The pictures you drag and drop are often branded ads of a newly launched product. And Gotcha can even show a banner ad when the mouse hovers on the picture icons as shown here: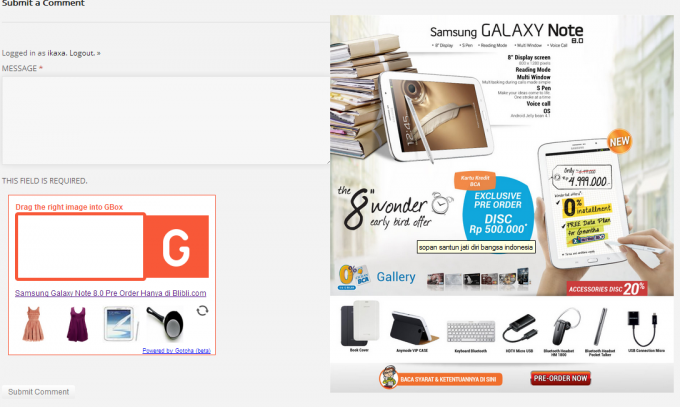 Co-founder Aditya Putra explains that the cost per click (CPC) and cost per thousand (CPM) ad process lets advertisers adjust their campaign products, while website owners will get commission from each ad impression.
The idea for Aditya to develop his own version of captcha came when he was having spam problems when moderating his high school alumni website even after using a text-based captcha system. After asking quite a few people about their experience of using the common captcha, most of them agreed that it doesn't work that well. Luckily Aditya understands HTML5.
He argues that his gesture-based captcha can work better than the regular one. The one Gotcha offers offers a better user experience too, he said. Gotcha works on any browser because of its HTML5 origin, even on mobile. Aditya adds that it's very easy to install Gotcha on non-CMS websites as well as on WordPress and vBulletin CMS sites.
But of course, Gotcha isn't the first company to use pictures for captcha verifications. Adit names KeyCaptcha, Picaptcha, and SweetCaptcha as having a similar business model. He believes that execution will be key to stand out against the competition.
Gotcha will be fully launched next month. The current beta version is still being tested to make sure there are no bugs and that the UX runs smoothly on any type of site.