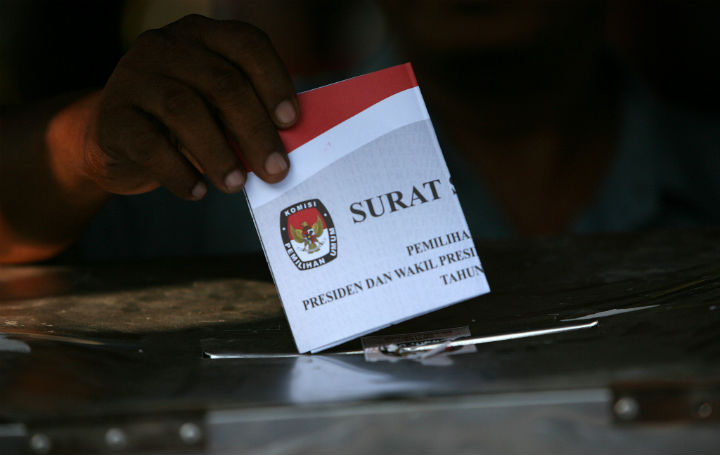 According to Google's communication manager in Singapore Robin Moroney, Indonesia's presidential election has created a noticeable stir on Google's Top Trending Topics, particularly when it comes to search terms for video and music. Moroney shows some examples of how to use the Google Trends tool and explains, "I use this tool to show what's on people's minds and sort of compare and contrast what's popular in Asia at the moment versus what's popular in other places around the world."
As Indonesians cast their ballots, certain songs are having a large influence on the population. Many foreigners have decided to focus on the Prabowo song for its implicit resonance with the neo-Nazi culture, but there have also been many other lesser-talked-about songs, which Indonesians seem to be searching for just as much as they have been hunting for political rumors and issues about the candidates. Lets take a look:
Presidential campaign songs rank vs Pharrell's "Happy"

Moroney says that while "Happy" isn't necessarily the number one song in Southeast Asia right now, it's definitely a hit and a great basis for comparison.
This week, searches for "lagu Jokowi" spiked, just behind searches for songs like "Happy." Music related searches for Jokowi peaked 400 percent over the past month with interest coming mainly from Jakarta, Surabaya, Medan, Semarang and Yogyakarta.
The songs themselves
Curiosity about songs related to Prabowo Subianto, or "lagu Prabowo," peaked on June 25th, just a day before searches for his rival's music hit its peak on June 26th (see graph below). Prabowo also saw a significant spike of 600 percent with most searches emanating from Jakarta, Yogyakarta, Surabaya and Medan in North Sumatra, the nation's fourth most populous province and a key election battleground.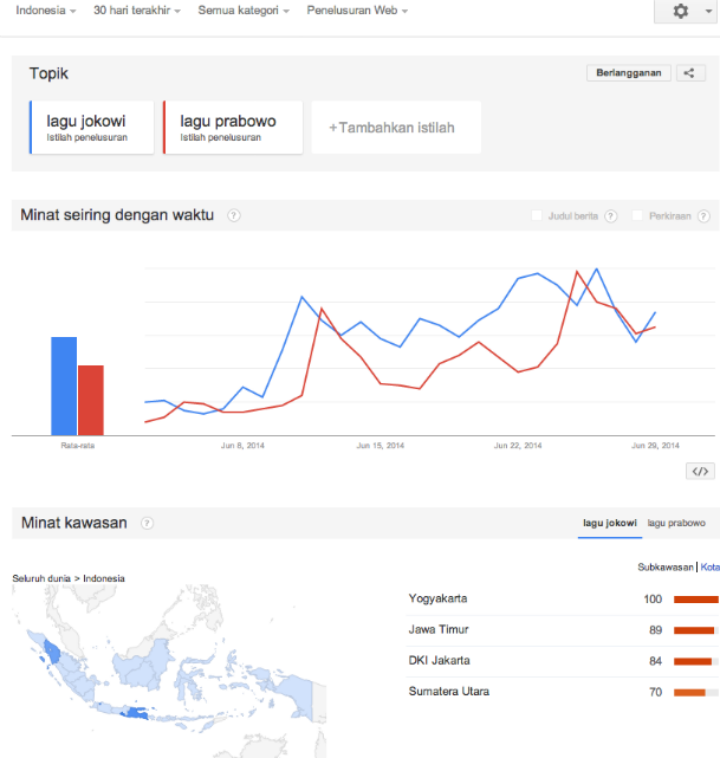 Connecting to millions of undecided voters will prove to be a decisive factor today as the race remains tight and Indonesians consume more media. For the Jokowi camp, songs may be doing the trick, with search interest for "Jokowi song" increasing over the past month, while "video Prabowo" generated even more search interest over the same time period.
Video snooping
As of today, five presidential campaign videos have raked in nearly one million views in total on YouTube, including (titles translated into English), "The Spirit of the Beat-Hatta Prabowo," "Ahmad Dhani song for Prabowo," "Mister Jokowi," "Greetings Two Fingers," and "Cast Your Vote for No. 2."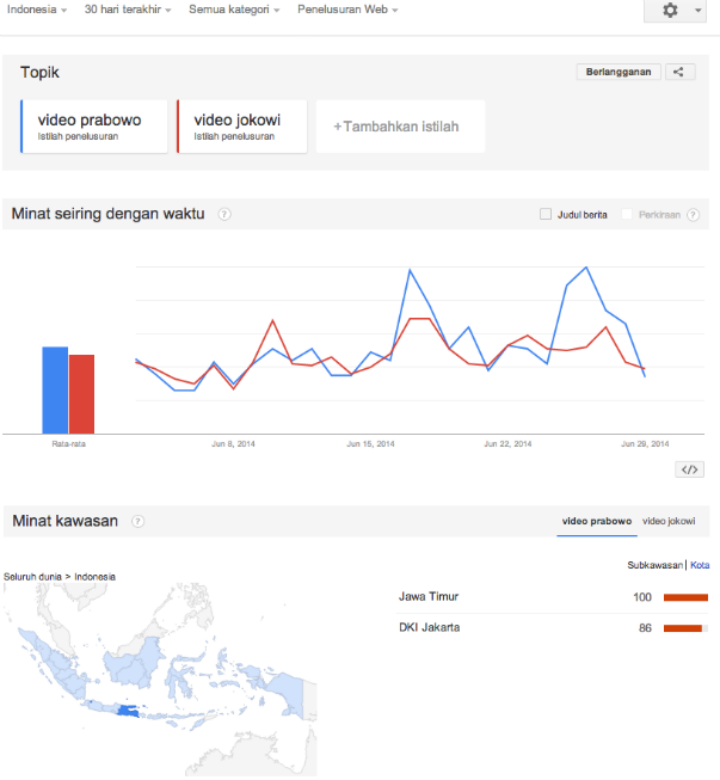 Not to be left out, the vice presidential candidates have also found their way into Google's Top Trending Topics this past week. After their first and only debate on June 29th, "vice presidential debate" was the fourth-most searched-for term with more than 20,000 queries, just behind searches for matches and scores from the World Cup.
Featured image via Flickr user Robert Scoble, image of ballot via Department of Foreign Affairs and Trade