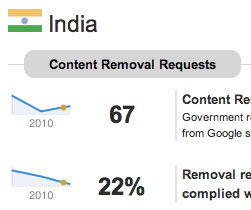 In a According to NDTV, India was featured as the third 'snoopiest' country in the world according to data from Google Transparency Report. The study reveals the number of government inquiries for information to Google about users and requests to remove content from its services.
Snoop (verb, informal): Investigate or look around furtively in an attempt to find out something, especially information about someone's private affairs
In India, the government has made 1,699 data requests to the search engine with 67 content removal requests. NDTV notes this makes the country third on the 'snoopiest country' list. First place goes to the United States with over 4,600 user data requests and 54 content removal requests. Here's the video report from NDTV:
While the United States and India have plenty of removal requests, there are surprisingly none from China. Our very own Steven Millward made a simple but insightful comment: "No requests at all from China. I guess you don't need it when you can block websites!"
All China needs is the firewall, which has clearly shown its effectiveness in Google's Transparency Report.