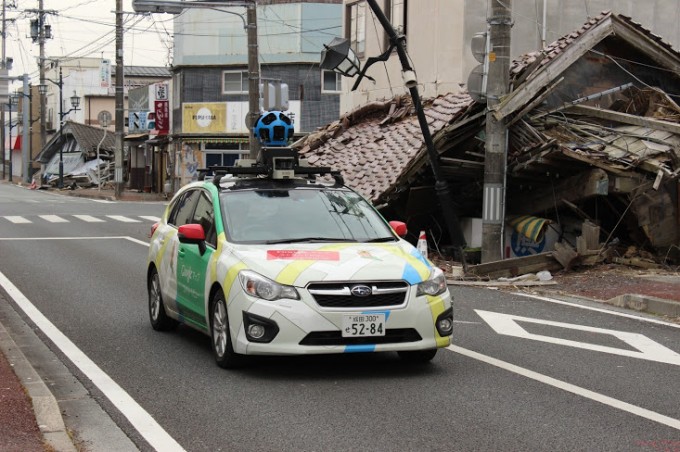 A little more than two years after the colossal Japan earthquake and tsunami disaster of March 2011, Google (NASDAQ:GOOG) has let its Street View cars venture into the Fukushima exclusion zone town of Namie­-machi (pictured) for the first time. Its residents, however, are still not allowed to return due to the meltdown at the nearby Fukushima nuclear power plant caused by the freak wave that swept ashore.
The Google Street View cars capture eerie scenes of collapsed buildings still in a heap in the badly damaged main streets of Namie­-machi. There's not a person in sight:
Located one kilometre inland is the fishing boat pictured below. In a blog post written by local mayor Mr. Tamotsu Baba that will soon go up on the official Google Japan blog, he points out that "nearby Ukedo harbor once proudly boasted 140 fishing boats and 500 buildings." Few of either remain.
In the vicinity is Ukedo elementary school, where Street View cameras have ventured on foot to capture the abandoned and wrecked classrooms:
It's a painful yet poignant reminder that Namie­-machi and Fukushima are trapped in a time-warp, frozen in convulsed horror in the day of the massive natural disaster that assaulted the land and seas.
This is part of Google's Build the Memories project that we looked at back in December 2011. At that time, the Street View cars had captured the devastation caused by the tsunami in badly-hit Miyagi prefecture. But until now, the hauntingly desolate streets around Fukushima had been off-limits. We notice that the street snaps of the whole area haven't been refreshed for this project, so you're limited to viewing certain areas, such as the two places we've linked above.
In the days and weeks after the disaster, a great many initiatives used technology to try help victims of the great Tohoku quake in some way, such as with 'person finder' videos on YouTube, through digital photography, and a site that connected Japanese who'd lost their homes with a host family.