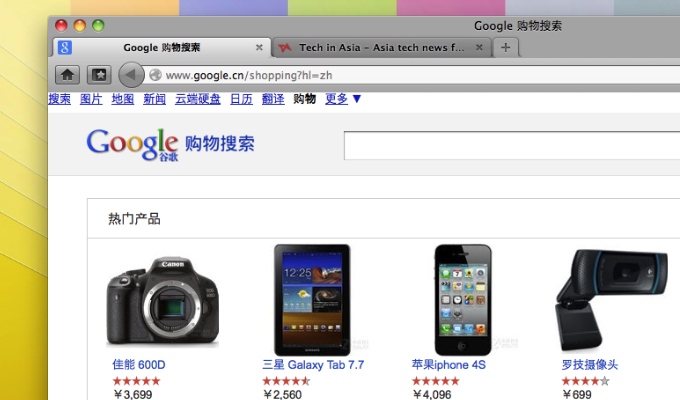 Google (NASDAQ:GOOG) is believed to be shutting down its Google Shopping search engine for China tomorrow (December 12th). According to QQ Tech, Google has notified some merchant partners of the closure of google.cn/shopping (pictured above), but the company has not yet issued a public notice on its official China blog. We've reached out to Google Shanghai and will update if we get a response. [UPDATED 13 hours later: Google has confirmed it].
If this comes to pass, then the closure will come nearly three months after Google shut down its China-only music service. It'll also even further shrink the few online services that Google still has on Chinese servers (and '.cn' web domains) after the company abruptly moved its search engine to uncensored Hong Kong servers and domains. There remain a few things, such as Google Maps for China at ditu.google.cn, though the app version of that is struggling with slumping market share.
Google Shopping is the web giant's dedicated product search engine. In China, it has stiff competition from the nation's e-commerce behemoth, Alibaba, which runs eTao. Plus there are a few other contenders. Last year, Alibaba ploughed 1 billion RMB (over US$150 million) to drive traffic to eTao, which indexes lots of – but not all – e-commerce sites in China. In comparison to its rivals in the country, Google Shopping for China looks a bit too simplistic.
The Chinese version of Google Shopping was undoubtedly hampered by the controversial move to Google.com.hk in 2010 to avoid mandatory media censorship in China, as any product that is searched for on the site ultimately goes to a standard Google search – at google.com.hk/products – which is very slow. That slowness is mainly attributable to Google's overseas sites – yes, including the HK ones – being throttled by China's web filtering system. That's also part of the reason for Google's search services as a whole dropping to fourth place in terms of market share in China.
[Source: QQ Tech – article in Chinese]