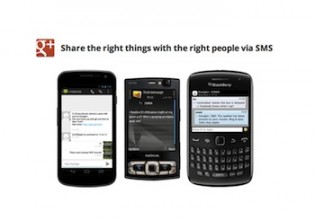 There's good news for Google+ users around the world today, particularly for those in emerging mobile markets. Google (NASDAQ:GOOG) is rolling out its SMS notification feature in 41 countries today, which means more people can access the network regardless of the kind of mobile device they're using. Last year when Google+ launched, SMS features were only available to users in the US and India.
Users can post updates, receive notifications, and send replies to Google+ via SMS. Including service to all carriers in the US, its good news for a number of emerging markets in Asia, particularly in Indonesia. Google+ users can get SMS functions if they are on Axis, Hutchison, Indosat, Telkomsel, and XL Axiata. A full list of countries where the service is available and associated carriers is here, if you'd like to check.
The project comes a team of engineers from Google research and development in India. Speaking to Business Standard, the company's country head, Lalitesh Katragadda, commented on what it means for India specifically:
[Th]ere are about 120 million people who are using internet in India today whereas the number of cell phone users is more than 600 million. We want to expand the reach to the 600 million mobile phone users many of who may not have access to internet.
For more information on the service, which can be activated here, check out the Google India blog post about the feature that was posted today.