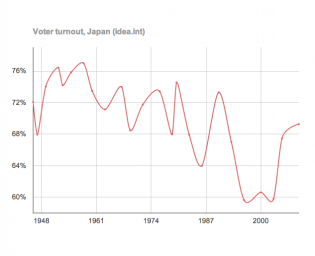 The folks over on RocketNews24 point out that Google Japan has an online initiative set up to help connect politicians and the public using Google+. The company will feature major party representatives in an online Q&A with selected Google Plussers [1] on December 14, from 10am to 5pm. Japan's general elections are set to take place on December 16th.
In order to participate, users were asked send a message along with the hashtag #政治家と話そう along with their question by December 2nd (if you didn't do so already, you're too late!). It looks like a fun way to reach younger voters, although I'm not sure how much traction Google+ has in the country just yet. You can check out a a short promo video for the session below, although it's in Japanese.
The subsequent Q&A will be streamed on Google Japan's YouTube channel, so anyone can tune in to hear the discussion. Voter turnout in Japan is not outstanding as you can see in the chart above, so any kind of attempt to engage the public like this is a good thing.
Meanwhile, opposition leader and former Prime Minister Shinzo Abe has leveraged that other social network, accumulating more than 119,000 fans over on his Facebook page.
---
Yes, I said 'Plussers.' Not a strange word at all…  ↩