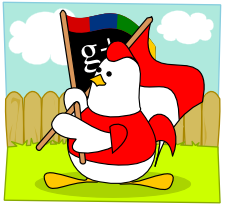 We have all read about the rapid growth of Google+, already 25 million users strong and often touted as a potential Facebook or Twitter killer. It is a powerful tool, but how will it fare in Indonesia? As a social media nation, I expect it should do quite well.
Driven by early adopters, the current number one user (in terms of being followed) is +Alderina Gracia with more than 3,500 followers, according to CircleCount. Most casual users are still learning how to use circles and maximize Google+.
In an effort to learn more about how the network is catching on in Indonesia, I interviewed two 'power' users: Diki Andeas of ChickenStrip and Enda Nasution from SalingSilang.
Diki Andeas
---
1. From CircleCount, I saw that you were tops among Indonesia Google+ users in term of 'followers.' What's your trick?
---
I'm sure that there are more Indonesian users that have more followers because not everyone put their location info in their Google+ profile, and I think Google+ statistics by third parties (like CircleCount) are not fully completed (i.e. they have not crawled all the Google+ users).

There is no trick at all! I use Google+ like other social media, as a place to share and [as a] content distribution channel (in my case, a web comic) that has interactions. If you said that the growth of my Google+ followers is faster (3,000 folowers in three years on Twitter vs 3,000 followers in 3 weeks on Google+) maybe its because of the Google+ euphoria (it's Google afterall!). I also used what is being talked by people so it can spread quickly through Google+, for example "Facebook vs Google+," Circle jokes, etc.
---
2. You also have three thousand followers on Twitter. Are most of your followers also following you on Google+?
---
I haven't found any accurate ways to compare my Twitter followers and Google+ followers, but for me as a content producer (web comic) sometimes I do a little research everytime a social media platform is released. In this case, I published several specific contents in Google+ and not every Twitter followers knew there was an update of my comicstrip in Google+. They are still loving it when I posted a week later on Twitter and on the blog.
---
3. You own a blog famously followed for its funny chicken strip. Has Google+ affected the traffic? Is traffic from Google+ higher than when you tweet a link?
---
Until now, the biggest traffic source is still from Twitter. Maybe because Google+ has similar characteristics with Tumblr where image/photo can be consumed right on the stream, it is different with Twitter where you have to click the link first. (Maybe in the future, Google can integrate Google Analytics so we can know the impressions in every post, rather than just showing the +1 count)
---
4. You are a developer/programmer. What do you think about Google+? Will it be just another 'phase' of social networking? Where will it fit in among other competitors?
---
I think there are more competent technologies watchers or social media experts that can answer your question. But if I have to answer that question now, rather than comparing it to other services (which is discussed over and over again on the blogosphere), I would like to answer it with a quote by Chris Pirillo: "Google+ has tremendous possibility." Yes, Google+ hasn't released all of its features (API, Google+ for business, gaming, deeper integration with other Google services, etc). For me, I still try to explore Google+ more, for example the Hangout feature. Lately, I'm trying to stream my Linux desktop to the Hangout. Maybe, in the near future we can have a sharing session about comics in realtime!
Enda Nasution
---
1. According to CircleCount, you are the second most followed Indonesian. Do you have any thoughts on this?
---
Nothing to say really, hehe, I think most Indonesian Google+ users now still consist of the early adopters, still numbering in the thousands.We are still in the very beginning of Google+ here, and apparently to most of them my name is a familiar one.
---
2. You are active on Twitter and on Google+. There has been some debate over how Google+ gives links more traction and conversations. What do you think?
---
I can't say right now, but I do realized that Google+ posting received a lot more comments when you post things about Google+ itself. Second, is that it's from different users that I usually find on Twitter.
---
3. SalingSilang are analyzing Facebook and Twitter for what's trending in Indonesia, Will you track Google+ posts once the API is released?
---
Definitely.