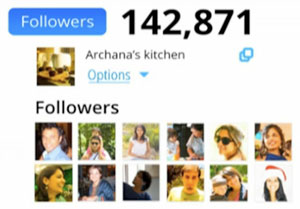 Google India has launched a commercial titled 'Archana's Kitchen' as part of Google's global 'The Web is What You Make of It' campaign. This part of the campaign highlights common users in India and around the world who are passionate to leverage the power of the web to do amazing things in their lives.
The campaign showcases the emotional and personal connection that all we have with the changing web today. Through a series of short videos (you can catch part one and two below), Google is sharing how the web and its products have changed the lives of millions of people and helped them achieve their dreams. It includes a variety of stories from celebrities to everyday consumer to small businessmen.
'Archana's Kitchen' tells the story of Archana who paired the Internet with her cooking passion through Blooking (Blog + Cooking), which helped her develop a community of loyal following around her site. Her blog has now become a catering service and also helped her land a book deal. Archana also runs an active Facebook page with over 4,000 likes so far.
Google India Country Marketing Head, Nikhil Rungta said in a statement:
The web has completely transformed people's lives today. Nowadays people spend more time online, in their browser, than they do in their car. You can make yourself heard, make a comment, share a picture or simply stay connected just by being online.The campaign shows how the web empowers people to amplify anything they want to do.

The campaign, at its core, is about people. It opens people's eyes to how they can connect, inspire and impact the world via the power of the web. It's also an open invitation to get people online and using the web to its full potential."
---
Google Chrome: Dear Sophie
---
---
Google Chrome: Dear Hollie
---