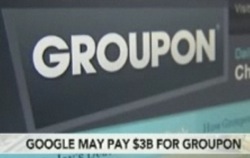 The Google-Groupon deal isn't just $2.5 billion. The rumored price is way too low. According to All Things Digital, Google has offered $5.3 billion for the social group-buying website with an additional $700 million earnout based on performance. If the deal were to happen, it will be Google's largest acquisition ever.
Although Google has multiple products, it is essentially a company that sells ads. Groupon has succeeded in establishing ties and deals partnerships with local and small businesses; something that Foursquare, Facebook and Twitter are all trying to achieve.
Adding Groupon into its range of products would automatically place Google as the king of local business, keeping it ahead of the competition. Most importantly, it is Groupon's knowledge on local businesses that will help Google further expand its ads business. Google business listing and AdWords are some products that are able to seamlessly integrate with Groupon's model.
$6 billion for Groupon is a hefty price to pay. But it is better to acquire Groupon now than a year later or so. I'm sure the price tag wouldn't be just $6 billion if Groupon were to dominate the local business market further. Google is paying a high price to prevent competitors from snapping up Groupon too.
We have witnessed how the search giant has slowly transformed YouTube into a money making machine (through ads) and we are likely to see the same transformation in Groupon as well. Plus, Groupon itself is already a profitable business. It just needed more financial support to expand faster and farther across the globe.
With the right strategy (which Groupon obviously has) and Google's financial muscles, Groupon will grow at breakneck speed. In short, this acquisition blocks out competitors and also provides Google with expandable and sustainable revenue. It is $6 billion well spent.