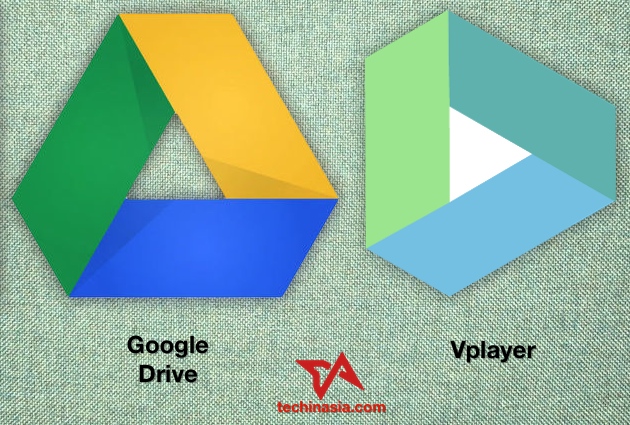 Chinese startups and apps often get a lot of flack – including from us – for cloning and copying, and generally coming up with ideas that seem strikingly similar to what has been done before. But that 'inspiration' is a two-way street, as seen with the stylish triangular icon and logo for Google Drive, the new cloud storage service that's already blocked in China, which bears a striking resemblance to that of the Chinese-made Vplayer app (pictured above).
As a user of the Vplayer app – which plays pretty much any kind of video file on your Android phone – it took me a few hours after the Docs app on my phone updated and metamorphosed to become Drive for me to spot it. And then it looked as if long-lost twins had been reunited – although wearing different clothes. The Drive icon is essentially the Vplayer one with a bit of dimensional shading added, spun 90-degrees anti-clockwise, and then looked at from the other side.
I spoke with the Vplayer employee, Jane – aka @孙三娘_ – who designed the distinctive icon. She told me via Weibo, "It's amazing Google Drive's logo [is the] same as Vplayer's." She then joked, "Yesterday I fine adjusted our logo. My workmate saw that, smiled and said to me, "Are you designing new logo for Google Drive again?"" Oh well. Perhaps she can add it to her CV or homepage and just take it as a compliment – plus it's a good way to talk herself into some new freelance design work in future. Jane added:
I chose a triangle as the base of the logo, then everyone will know it's a video player, as it's similar to the 'play' button. Also the logo is a combination of many 'V's. […] I love the Möbius strip, it is a topological structure, which indicates our player has magic power!
While I'm on the topic: shouldn't the Vplayer logo form more of a 'V' shape, and the Drive one be flipped to become a 'D' as I've mocked up below?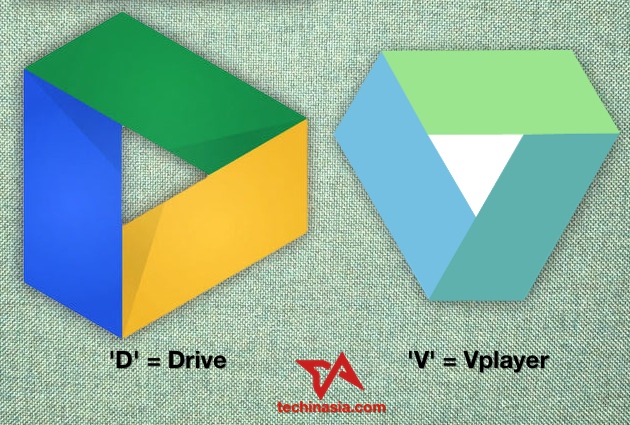 But, hey, no-one has ever asked me to design anything. What do you think of the Drive logo? Perhaps Google got its inspiration elsewhere – maybe from the funky new tech blog The Verge. Let us know in the comments.
Vplayer is in the Play Store as a free app that has an optional unlocker for the premium – but totally worth it – price of $4.99.
[UPDATE 1: Added in the premium app link, which I had forgotten].
[UPDATE 2: Thanks for feedback from various sources. Google's inspiration could have been anything from a Möbius strip – the most likely – to the globally-recognizable recycling logo].
[UPDATE 3: Added a more detailed explanation from the designer, in the blockquote above].