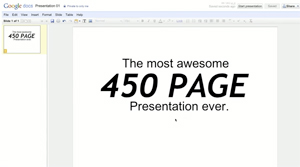 Are you using Google Docs? If not, this awesome Google Doc demo may give you the extra motivation to use it.
The video demonstrates several key features of its technology, which include multi-user sharing, collaborative editing, and online document creation.
This gorgeous demo video has also gathered over 1 million views since uploaded on YouTube about 10 days ago. The video is part of Google's Demo Slam Project, which aims to help more people understand technology in a fun and meaningful way.
You can check out more video demonstrations on the Demo Slam website.