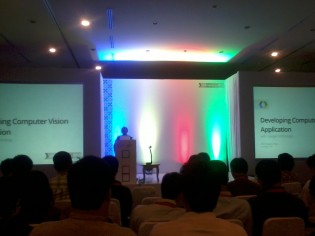 Today Indonesian developers gathered at the Google Dev Fest in Jakarta. This is the place where they can share knowledge on how to work with the application engine and monetize their apps. The developers could also benefit from having face-to-face technical discussions with Google engineers and local speakers. But Dev Fest is not only for current developers – lots of students went to the event too.
Today's Dev Fest coincides with Google Day – and therefore Google's birthday, this time its 14th – whose theme is "University Day". In Google Day, Indonesian students and lecturers focused on university programs sponsored by Google and also a number of internships. So, this event is more about introducing Google services for educational purposes.
One of the speakers at the Dev Fest was the head of technology and program management at Qualcomm Indonesia, Salim Ezer. He talked about the Qualcomm Vuforia SDK that supports Android and iOS. This is a mobile development platform to build Augmented Reality (AR) applications. Even though it's a Qualcomm SDK, it's compatible with processors from other brands. But Salim said that he can't guarantee it will be as optimized as in Qualcomm devices.
Salim showed off some Vuforia featured apps, which looked very promising. The most amazing part which wowed the audiences was an app that can make it look like you're being beamed in a Star Trek-style teleportation. The AR app could make you disappear and then show up again in your device screen. Another app has a naughty part that can undress people in a picture. Vuforia can also bring book's characters to move in a certain tablet app. It has the ability to deliver a lot of information from image tracking. Salim stated:
The numbers of animations which can appear in the apps depends on handset support. But with Vuforia, all of the animations are stored in the cloud. So, you can provide millions of bit of information.
Computer vision
Another exciting topic related to AR was shared by a lecturer at the School of Electrical Engineering and Informatics of Institute of Technology Bandung, Peb Aryan. Discussing 'computer vision' applications, Peb shows how an app can erase a person easily from a picture like that person never existed. That happens with the power of accessing and manipulating pixels in the picture.
Peb's topic, computer vision, plays an important role in an AR app. Basically, it's a computer's ability to recognize visual targets just like face-recognition features in Facebook's photo tagging or determining the state of traffic jams from the police camera images. Computers can be programed to detect and separate objects from the background based on colors, borders, corners, regions, and motion.
The use of computer vision gives a lot of benefit to the kind of apps that we can see nowadays. Computer vision can be "trained" to recognize faces from a moving picture. Peb gives the example (while joking) on how to recognize people when there is a homemade porn video that leaks online. Together with recognition algorithms, computers can match faces in the picture with its database.
Computer vision can also reconstruct objects from assorted pictures. He shows an image of a building complex that has been reconstructed using pictures taken from the people who visited the place.
At the end of the session, attendees shares their crazy ideas on building computer vision/AR apps, throwing out concepts like one for recognizing criminals from e-KTP (Indonesian electronic identification card) photo data, to an app for handwriting recognition for psychological analyses. We hope that some of those crazy ideas from these developers find their way into your cellphone pretty soon.