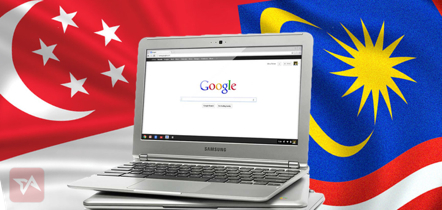 If you're living in Singapore or Malaysia and fancy spending over $300 on a glorified web browser, today is your lucky day. That's because three Chromebook models, which run Google's entirely web app-based Chrome OS, have just launched in Singapore, while one Chromebook variant is arriving in Malaysia.
The sole Singaporean retailer for now is Courts; Malaysian buyers will have to drop into a Yes store.
In Singapore, the Acer Chromebook is the cheapest at S$369, while the Samsung and HP Chromebooks each cost S$449. Judging from the new site for Chrome OS in Malaysia, geeks there can only get the Samsung Chromebook for RM 988 ($328).
Chromebooks have only launched in 11 countries so far, and today's dual launches mark the Asia debut for these gadgets and Chrome OS.
However, just a few weeks ago we saw that the Malaysian government will deploy Chromebooks at 10,000 public schools in the nation backed up by Google Apps for Education accounts for students to work collaboratively online (Update: Corrected).
(Source: Google SG on G+)