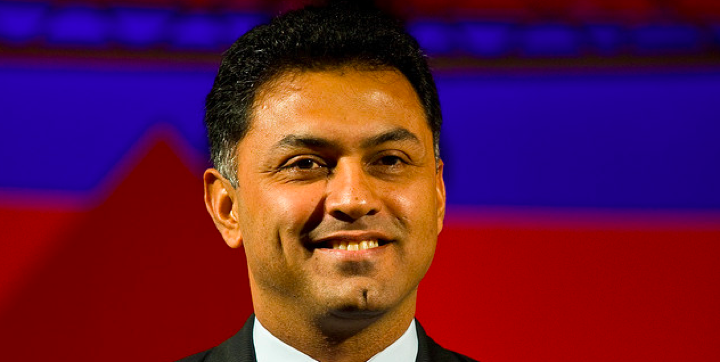 Masayoshi Son always has another trick up his sleeve. Despite discussing seemingly everything about the future of his company during the firm's two-day festival "SoftBank World" earlier this week, Son put out a stunning announcement Friday morning. Nikesh Arora, a 10-year Google (NASDAQ:GOOG) veteran who most recently served as its Chief Business Officer, will leave Mountain View and join the ranks of SoftBank (TYO:9984), Japan's most aggressive telco. Arora will join the company in October as Vice Chairman of SoftBank and CEO of the to-be-formed SoftBank Internet and Media, Inc. (SIMI). The company also announced that Arora will be nominated for a board position at the next shareholders meeting. SoftBank traditionally holds its shareholders meetings in June.
SIMI is an unknown quantity in the SoftBank universe but Son announced that Arora will directly handle SoftBank's internet, telecom, media, and global investment strategy in his new role. The hiring could prove to be Son's latest master stroke. SoftBank's future is clearly overseas. It's acquisitions of American telecoms and dream of popularizing the use of robots in modern society all point to a SoftBank trying to wean itself off the Japanese domestic economy. Who better to help steer the ship than Arora? The global-minded executive did just raise Google's second quarter revenue 22 percent year-over-year to US$16 billion after all.
The last Google executive to make this sort of splash was Hugo Barra. Barra, then a vice president of product management for Android, moved to Xiaomi, a US$10 billion Chinese company which produces affordable smartphones. With Arora's decision, the ties between Silicon Valley and Asia come into focus once more. With more room to grow and companies willing to pay top dollar, more and more Silicon Valley execs may have to start making difficult decisions.
We have reached out to SoftBank for further comments and will update this article upon their response.
UPDATE
A SoftBank spokesman has confirmed to Tech in Asia that Arora will remain in Silicon Valley and will not relocate to Japan. The spokesman also said that it is "premature" to discuss specifics regarding SIMI such as when it will be established and what its expected staff size will be.
When asked how Son came know to Arora, the spokesman explained that the two men had met during a period of negotiation between Softbank and Google. The company declined to specify what was negotiated.
See: Android VP Hugo Barra confirmed to be leaving Google for Xiaomi
Top image via Flickr user Erik Solheim
9月3日と4日にスタートアップアジア@東京を開催します!割引コード < TECHINASIA >を使ってみて下さい!
Startup Asia Tokyo 2014 is on Sep 3 and 4. Unlock secret level using code < TECHINASIA >