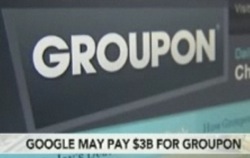 Google is rumored to have acquired Groupon for $2.5 billion. Notable tech blogs are all referring to Vator.tv's undisclosed source. No one has confirmed the news.
If the acquisition were indeed true, it would be a big victory for both Google and Groupon. Groupon's group-buying business model is currently profitable in the U.S but its acquisition plan to acquire copycat sites across the world has strained its financial health. Google has the financial muscles to help Groupon complete its worldwide acquisition.
The world largest group-buying site can help Google cement its e-commerce authority. I'm having this feeling that Groupon and Google's latest Product Ads could be a good fusion to push e-commerce to a higher level.
And… exiting at $2.5 billion in two years? Team Groupon would be singing in joy too. That is of course if the deal is official. We shall see.