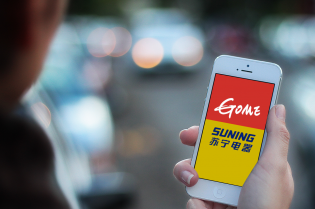 UPDATE: MIIT's spokesperson said that Gome and Suning's operational models meet the requirements for virtual telecom operator licenses, not that they had been actually granted provisional licenses. I apologize for the mistake.
China's Ministry of Industry and Information Technology (MIIT) seems to be moving very fast in its plan to issue virtual telecom operator licenses. Following on its recent estimation that the market could eventually be worth $11 billion, MIIT officials announced that the Ministry has granted preliminary licenses to electronics retail giants Gome and Suning.
The choice of Gome and Suning doesn't come as a huge surprise, as they were already rumored to be at the head of the pack (and as Tech in Asia commenters pointed out, they're ideal candidates as they sell large numbers of phones already and have mature customer service operations in place). But the speed with which MIIT is rolling out this new system is quite impressive. The idea behind allowing virtual telecom operators generally is that it benefits consumers by increasing choice and encouraging competition, but it remains to be seen what effect the move will have on the industry in China, which has long been dominated by the big three state-owned telecoms.
For now, the licenses are conditional and preliminary, but they will allow Gome and Suning to partner with a domestic telecom company (China Mobile, China Unicom, or China Telecom) and lease access to their telecom hardware. This then allows the retail giants to offer telecom services under their own branding — probably bundled with the phones they sell — without the companies actually needing to spend millions on the hardware and infrastructure required to create a new telecom network. Customers then buy their mobile service from the retail companies, and the big telecoms get paid lump sums from the retail chains for access to their networks and hardware.
This might still seem like a bit of a bum deal for the big telecom companies, but that doesn't matter because MIIT officials also announced that participation will be mandatory. Each major telecom will be required to partner with at least two virtual telecom operators, but may choose to partner with more than two if it wishes. There will be no upper limit to the number of companies a telecom operator can partner with, but virtual telecom operator licenses themselves will be limited by MIIT, so not just any company can partner with a telecom and start its own mobile service.
Given the announcement of Gome and Suning's participation, it now seems a foregone conclusion that MIIT's virtual telecom operator plan will go into action, and regular licenses will likely be issued to a number of companies by June of this year. The Ministry says that it will be scrutinizing applicants carefully, looking for companies that have the customer service, technical staff, and long-term viability to maintain a virtual telecom network that will serve customer needs without folding, but it is also encouraging companies to proactively apply for licenses.
(via Sina Tech)