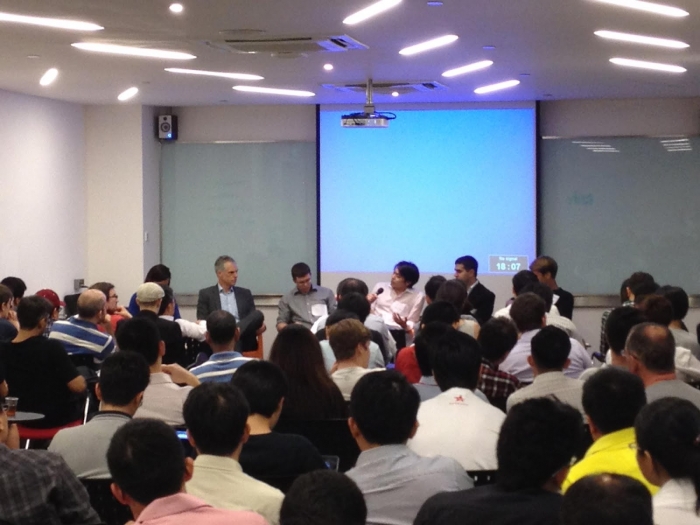 We ran a investors-meet-entrepreneurs session at Plugin @ Blk 71 as part of our Startups in Asia (Singapore) networking session last Saturday. And oh boy that was pretty fiery panel of overseas investors. They were very liberal with what they saw as cold hard truth, many of them noting that startups in Asia just are not hungry enough.
Hans A. Koning (@hanskonging) of Solid Ventures and Melbourne Angels pointed out that two of the startups failed to reply to his email inquiries on potential investments opportunities. In all fairness, these two startups could have been busy with something, but nonetheless, but on the surface at least it seems to indicate a lack of hunger in this one case.
I know, I know. Some of the VCs' remarks probably didn't sit too well with many of you. You were probably thinking, "Seriously, what do they know about Southeast Asia anyway?" But take their comments with a grain of salt. As Alexander Pavlov from Ru-Net Ventures (ru-net.ru) said, "We're here to educate ourselves." If they were not interested in SEA, they wouldn't bother coming and investing the in Southeast Asian market. We are, both founders and investors, all here to put in constructive feedback, to learn and improve as a whole. It's an important discussion that needs to happen, and we hope this is the first of many such talks.
So investors say entrepreneurs here aren't (generally) hungry or hardworking. Serkan Toto and our own Willis Wee have echoed their views as well. But it's good feedback. If you think they are wrong, then go prove them wrong. Build an awesome and ambitious global product that fascinates a global audience. It's not about what they say, rather it's about what you do to show to them otherwise. If you're slowed down by such remarks, then you ain't much of an entrepreneur!