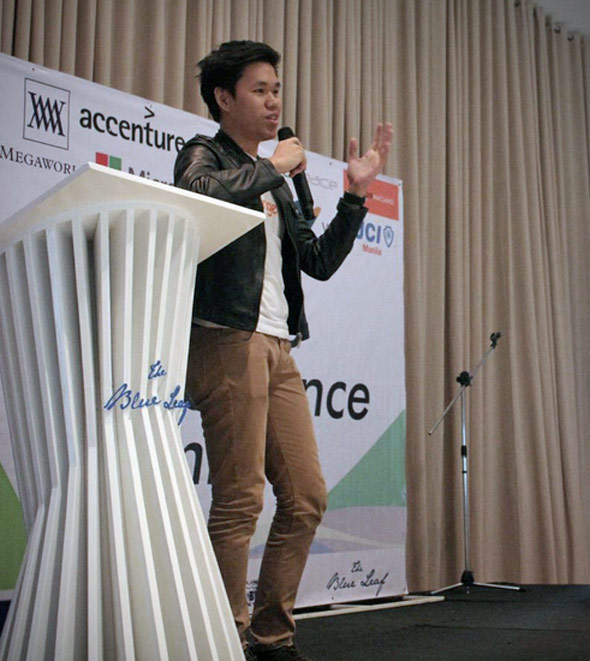 Fame has found 19-year-old student Gian Javelona. Soon after launching PUP Mobile Portal, the first mobile app for a school in the Philippines, he transformed from just another enthusiastic app developer, very common these days, into the latest talking point on national news.
The computer engineering management student appeared as a guest on the ABS-CBN News Channel, the CNN of the Philippines, to talk about his app. TV5, a major television channel in the country, has interviewed him as well. His achievement brought great pride to his college, the Polytechnic University of the Philippines. A banner even hangs on the entry gate just outside Gian's campus, proclaiming, "we are proud of you."
Score one for the country's tech startup scene. Ever since a bevy of funds, expertise, events, and passion were injected into the ecosystem this year, Filipino entrepreneurs have increasingly been put into the national spotlight. The media attention will certainly help galvanize a nation that is trying to establish itself as a rising tech startup powerhouse (read: The Philippine startup scene: Asia's best kept secret?).
But fame has a darker side: Many startups in the United States have felt the giddy ecstasy that comes with media adoration, only to collapse in a heap of ruin later on. High profile examples would include Color, which scored a mind boggling USD41M in venture capital pre-launch, and Diaspora, which was widely touted as a Facebook killer before it even had a product.
The mass media tends to distort reality by highlighting the glamour of entrepreneurship without emphasizing the lows: Countless iterations before finding the right product-market fit, slogging well into the night and on weekends, and working without salary and the comforts of a plush job in a large corporation.
Like many self-starting developers, Gian, who plans to register Orange Apps as a business soon, will have to grapple with these issues. Finding inspiration will help, and for him that is Facebook founder Mark Zuckerberg.
"I've seen 'The Social Network' 10 times already and I feel that I can relate to whatever he was going through when he was starting Facebook," said Gian in an email interview with SGE.
Their stories have another similarity too. Just like how Zuckerberg built Facemash — his pre-Facebook project — by pulling photos from Harvard's websites without seeking permission from the university, Gian created and released his mobile app without notifying PUP.
The school authorities asked him to shut it down due to security issues.
But he was undeterred. He spent a month to fix the app and then relaunched it. The app became an instant hit among students within 3 days. Now, he has some 2,000 active users out of a school population of 70,000, spread out to over 20 campuses.
"The President of PUP called and asked me to present the platform. Sometimes, you need to break some rules to make big things happen," he said.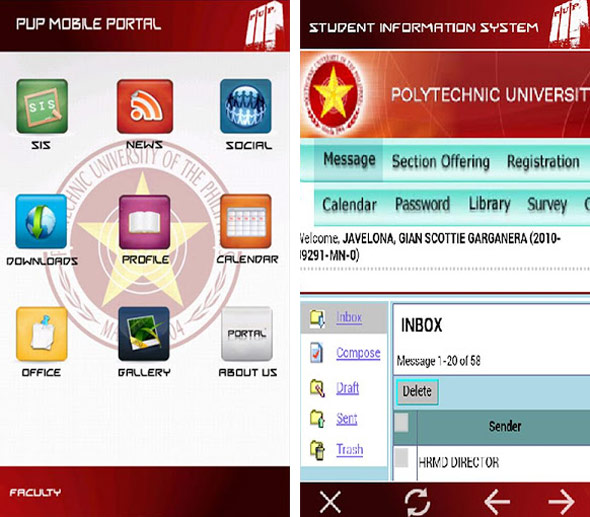 The platform has propelled PUP forward technologically. The Android app, in essence, lets applicants enroll into the school using their smartphones. Students can log in to their student accounts, read news, post announcements, and post to social networks like Facebook and Twitter. Faculty can input student's grades through the app, while alumni can use it to obtain their transcripts.
However, the app's user experience is underwhelming. On the Android phone I used, the app crashed often. Also, instead of offering a truly native experience, it is a little more than a mobile browser with a PUP skin.
Gian Javelona has big plans for his creation and his startup, and I believe the press mileage will help. He is aiming to push the app out to all universities and colleges in the Philippines before he turns 20 in March next year. He also wants to bake in a feature for students to pay their tuition fees, although he'll have to speak to the banks.
The student entrepreneur aims to emulate his idols in all ways. He has set before himself a lofty vision: To modernize the education system in the Philippines. Through his endeavors, he wants to inspire and encourage Filipino programmers to create new ideas.
"When I was a kid, I've always admired Steve Jobs. When I was in high school, I told myself that one day I am going to build my own company, a Filipino version of Apple and will name it Orange Apps. Here I am now living that dream," he said.