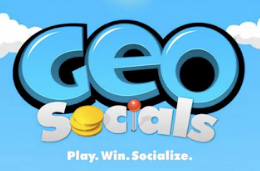 'SoLoMo,' or 'Social, location, and mobile,' is one of the biggest mashups in today's tech start-up scene. Just to name a few – We have SCVNGR, Foursquare, Bouncity, and recently GeoSocials from India.
I had a chance to give GeoSocials a run through, and I like it a lot. Its gorgeous design makes it enticing and sticky, way better than SCVNGR in my opinion. Nonetheless, I still called it a SCVNGR clone as GeoSocials follows a similar concept: do challenges, unlock rewards. But Krishna Prathab, the CEO and founder of GeoSocials, argues that it's not. Don't worry, we didn't have a fight or anything. It's more of a difference in opinion and in fact that difference in views brought us closer together.
In my previous post, I questioned why GeoSocials first launched in the U.S instead of India. America is a huge market but it's also filled with strong competitors. Krishna explains that there is a far larger number of iPhone users in the U.S compared to India. The US move doesn't seem to be a complete launch as Krishna revealed that he is more interested to gather data and feedback for future launches in other countries. So this is basically just a trial run for GeoSocials.
Krishna also swears that while creating GeoSocials, he didn't know that Foursquare and SCVNGR existed. It's a little hard to believe but, yes, that's what he said. Nonetheless, he also graciously accepted our opinion and mentioned that others have called GeoSocials a SCVNGR clone too. I asked Krishna to list down the main differences between GeoSocials and its competitors and here's his response:
No Check-in: Unlike Foursquare and SCVNGR who we are usually compared with, we don't deal with check-ins nor we are confined to any known famous place, restaurant or landmark.

Social: The core emphasis of GeoSocials is to enable people to make relevant, "real-life" social connections with people around your location in a gaming context. The very people who we travel with every day in the same train, or a neighbor who is a few blocks away, or a fellow co-worker in our office complex who we never got a chance to say 'Hi' to. GeoSocials is the gamification of geo-social networking in a hyperlocal context as opposed to the gamification of check-ins.

User Driven: GeoSocials is completely user driven. In GeoSocials the user drives the game by dropping treasures in places where he goes. Others claim them and in the process discover fun things to do. The users of GeoSocials drive the game and the interactions in ways they deem interesting.

Hyper Local Context: Everything in GeoSocials happens within a radius of a few miles around you. In fact your visibility of anything in the game – including treasures, people or rewards – are confined to a specific radius. We intentionally keep it this way to make the context of GeoSocials hyperlocal to a user. The action is always around your immediate vicinity and hence instantaneous.

Real-life Social Networking: This is by far the biggest differentiator and one of the core ideas behind GeoSocials. Let me [explain] this with my own example, I have about 500 friends in Facebook and I hardly interact with even five of them face-to-face, in real-life. How many of us know more than 10 of our neighbors well? These are the people who actually matter to us in real life and can give a helping hand when you are in need. GeoSocials enables you to make connections with people who matter in your real life.
Okay, so that's Krishna's argument. We wanted to put it up on Penn-Olson, because we value what founders can tell us about the services they create. I think it's cool that Krishna accepts others' opinion and takes them into consideration. From what I have understood, he has already started making plans to pivot.
Very often it's not the uniqueness of an idea that makes it succeed, but sometimes its the execution that really differentiates between winning and losing. I believe Bouncity, a SCVNGR clone in Indonesia, has executed well and is a great example of this. I wish Krishna all the best, and I hope he has similar luck with GeoSocials.