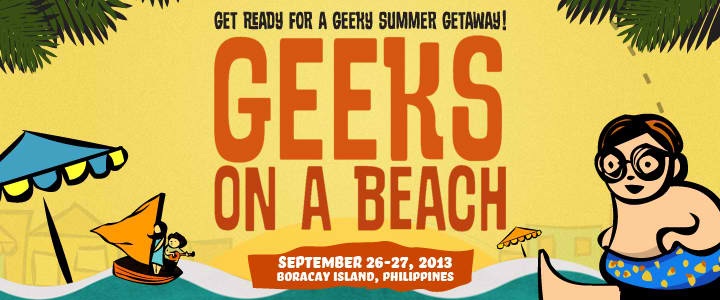 We've noted how the non-profit tech startup community Techtalks.ph was able to bring together promising startups at the third Startup Weekend Cebu. Following this, the organization is set to organize another event. Dubbed as Geeks on A Beach, it aims to bring together startup enthusiasts in the Philippines for a two-day conference commencing this September 26.
The event name is borrowed from Silicon Valley's Geeks on a Plane, says TechTalks founder Tina Ampers. And like the global startup initiative, Geeks on a Beach's mission is also to give participants the opportunity to meet incubators, successful startups, and other organizations who can help them learn how to launch their new ideas into a startup. For this Philippine event, TechTalks will encourage participants and tech industry leaders to converge on the beaches of Boracay.
Big Support for Philippine startups
Earl Valencia, president and co-founder of incubator Ideaspace and one of the partners for the event, says that this is part of its dream to showcase Philippine-made startups to the world. He adds:
More than half of the speakers are from outside of the Philippines, so it's time for the Filipinos to connect with them.
For speakers at the event, Earl name-checks some leaders in the global startup scene such as World Startup Report founder and chief ambassador Bowei Gai, global accelerator Plug and Play co-founder Jojo Flores, 500 Startups Paul Singh, and venture capitalist Innovation Endeavor founding partner and Tokbox co-founder Ron Hose. There are more.
Other successful Philippine startups such as PayrollHero, MetroDeal, and CashCashPinoy, are also set to give insights to the participants. The startup scene in the country has yet to grow, but it looks like the Philippine startup scene is getting the traction and networking opportunities it requires.
Pitchin' ideas
In fact, Bowei and Ron (who has recently moved to the Philippines to look at startup opportunities in Southeast Asia) recognize the pool of talent present in the Philippines. Ron adds:
In the Philippines, there are a lot of areas open for opportunities where no one is competing.
Startup communities also have the opportunity to pitch ideas at the event while also creating a network of partners. Tina says participants can be any individual who want to create their own startups or anyone who has interest in technology. But the organizers also underscore that technological background or mastery is not a requirement for admission. Anyone with passion or wicked ideas can join.
To date, Tina says there are already 140 registrants composed of individuals, sponsors, and organizers. The team is looking to have more than 200 participants. Interested parties can register here.
(Editing by: Steven Millard)