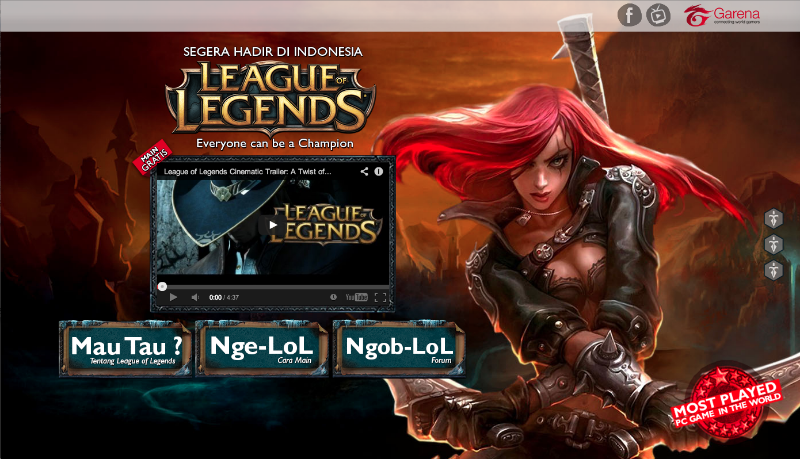 League of Legends (LoL) is a very famous Multiplayer Online Battle Arena (MOBA) game developed by Riot Games that has 70 million users globally. Seeing the potential it has in Southeast Asia, Garena Indonesia is ready to launch in October and localize League of Legends in an Indonesian version. Indonesian gamers will be able to play at good speeds as LoL will launch in the country with a local server as well.
Garena Indonesia is an Indonesian game publisher and online gaming service provider that is a part of Garena, who created Garena+, the largest online gaming platform in SEA and Taiwan.
In line with the plan, Garena Indonesia will customize LoL's interface, gameplay, and settings to provide a truly localized version of the game for the convenience of Indonesian players.
Most played PC game in the world
League of Legends offers more than 100 characters, or "champions", with different skills and roles, including Assasin, Mage, Tank, Support, Fighter, and Marksman. It has beaten World of Warcraft, the other most played MMORPG in the world, which has 32 million active users. League of Legends recently broke a record when played simultaneously by five million of its users concurrently. To improve its gaming experience, LoL has been armed with the latest technology such as anti-cheat (no more hacking), leaverbuster (automatic warnings when users quit in the middle of the game too many times), matchmaking, and stat tracking.
The CEO of Garena Indonesia, Zhou Junjie, says in today's announcement that League of Legends "deserves the title of the most played PC game in the world."
Indonesian gamers can find out more and talk about the about Indonesian version of League of Legends on its official website, forum, and on its Facebook page.
(Editing by Steven Millward)