If you're a fan of Chinese Dota, especially of Team DK and Invictus Gaming (iG), this article might make you sharpen your pitchforks and point them at Gamefy.
According to a post by weibo user Dr_Kleiber, the Chinese media group recorded the video of both teams as they were strategizing before their matches in their designated game room at The International 2014 (TI4). After which, the video was posted to Youku before it was later translated in English and posted to GosuGamers. In an interview with ImbaTV, DK's coach Wen Yi "71" Tang was very angry with the leak and both videos have since been taken down.
According to the weibo post, people can still search for the videos and unfortunately damage has already been done. The video exposed "DK's core strategy and their drafting ideas", which could destroy their chances in TI4, the biggest Dota 2 tournament. A similar video of Invictus Gaming (iG) was also leaked, but Luo "Ferrari_430" Feichi noticed the camera and left the room along with the rest of the team.
Here's the original weibo post by Dr_Kleiber. You can also find the full weibo post here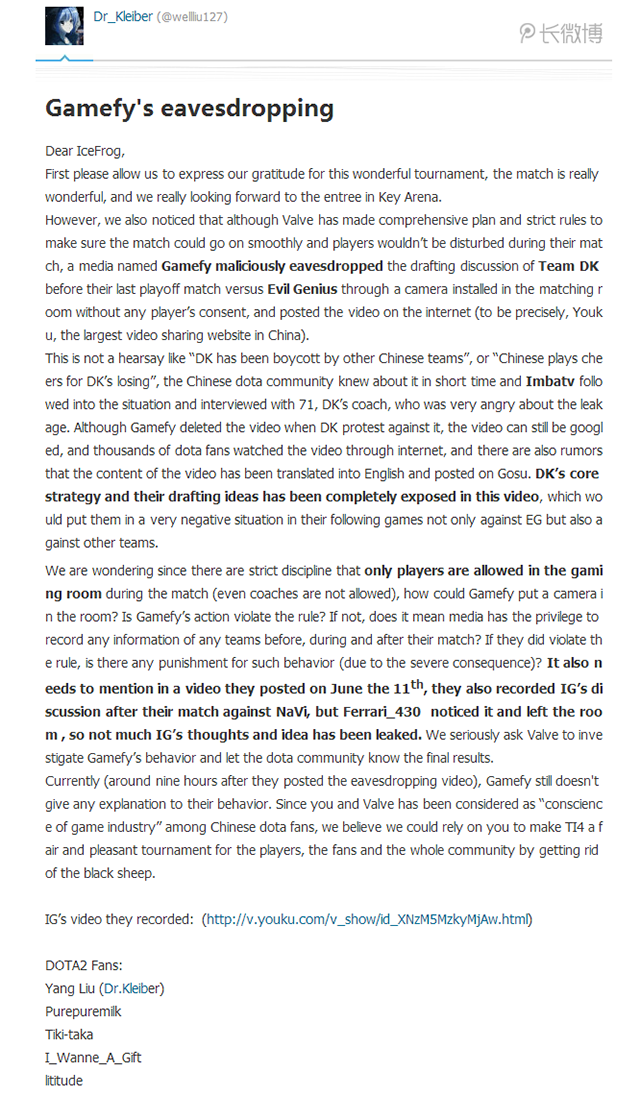 Here's a video of ImbaTV's interview with DK's coach:
[fve]http://www.youtube.com/watch?v=dPXQ4sf0_Kw&feature=youtu.be[/fve]
Gamefy has recently issued the following explanation and apology on their weibo account. The post is in Chinese, but here is a translated version from Reddit user Bikinii:
Dear DK players and beloved dota 2 fans,

Gamefy's film personnel entered and began filming the player's rooms without the permission of Valve and Team DK, and accidentally uploading the sensitive information. We sincerely apologize for our actions.

We acknowledge the problems and frustration that was caused to team DK by the video, and we are fully aware of the hurt that was caused to Dota 2 fans. According to Valve Corporation's rules and regulations, the personnel responsible cannot continue to participate in TI4 news reporting; We will also strictly adhere to the rules of the organizing committee. Without further permission from Valve, we will not enter player's rooms to conduct any kind film work.

Lastly, we would hope for forgiveness and understanding from all of team DK, all dota 2 fans and lovers, and other TI 4 players; and let us put our passion and enthusiasm into the reporting of the next phase of the tournament.

We hereby apologize.
The issue sparked anger and disappointment within the Dota 2 community. You can join the active discussion on Reddit here. There has been no official statement from Valve regarding the matter, but we will keep you posted so make sure to check back or follow us on Facebook and Twitter for updates.
---
More TI4 news:
[news post_id=168134]
[news post_id=168145]
UPDATE 1 13-07-14: This article has been updated to add the English subtitled video of ImbaTV's interview with DK's coach.
UPDATE 2 13-07-14: This article has been updated with a better translation of Gamefy's statement.
(via Reddit)