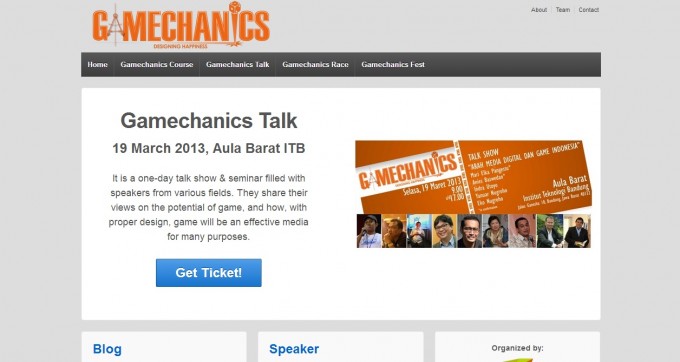 Online gaming media Segitiga.net, together with Bandung Institute of Technology (ITB) will hold a talk-show and seminars about how cool games can be when used for things other than entertainment. The event is called the Gamechanics Talk 1, and it will be held next Tuesday on March 19th. With notable people speaking at the event, Gamechanics Talk can be an interesting choice for your learning process.
Here are a few details about the Gamechanics Talk:
Venue: ITB's west assembly hall, Ganesha 10 Street, Bandung.
Time and date: 9am to 5pm, March 19th (Tuesday).
Price: IDR 80,000 (US$ 8) for students and academics, IDR 200,000 ($21) for others (early bird until March 15th). IDR 120,000 ($12) for students and academics, IDR 250,000 ($26) for others (regular price).
And here are the speakers 2:
Mari Elka Pangestu* (Indonesian minister of tourism and creative economy).
Anies Baswedan* (rector of Paramadina University and acclaimed as one of Indonesia's brightest minds by numerous international organizations).
Cahyana Ahmadjayadi* (president director of PT. Pos Indonesia).
Yanuar Nugroho (researcher at the Manchester Institute of Innovation Research).
FM Siddharta (director of Center For Organizational Excellence).
Indrawan Nugroho (director of KUBIK Training).
Abang Edwin Syarif Agustin (former senior community and social media manager of Yahoo! Indonesia).
Indra Utoyo (CIO of Telkom Indonesia).
Eko Nugroho (founder of game studio Kummara).
The Segitiga.net representative said people can learn the many things that games can do beyond just fun at the Gamechanics Talk. The event will also aim to bring new perspectives about how to implement games on a bigger scale and aspect.
For more information about Gamechanics Talk you can check here. To get more information about ticketing prices and bookings, you can go here.
The Gamechanics Talk is part of the bigger Gamechanics program which also comprises of a gamification course, a gamification competition, and a conference. The Gamechanics event will be topped off with the launch of the Indonesia digital market and Indonesia digital media forum in November.