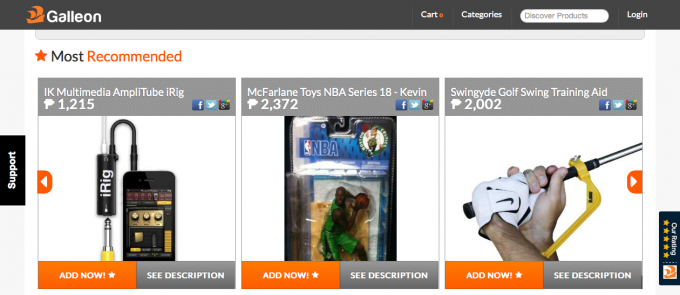 Between the 16th and 18th century, at the height of the age of sailing, there were few vessels as formidable, as revered, and as valued as the galleon. Capable of both wartime and trade duties, Spain in particular designed amazing galleons, capable of traversing the then treacherous expanses of the Pacific Ocean between Mexico and Manila. These 2,000-ton vessels were appropriately named Manila Galleons, and they were the trade lifeblood of the Kingdom of Spain.
Fast forward 300 or so years, and a different kind of galleon is attempting to make its mark in a very different kind of trade. It's an e-commerce site that provides all the most niche products you can't find anywhere else.
Way back in December of 2011, the original concept for what would become Galleon.ph was hatched by Jeffrey Siy, founder of group buying site Awesome.ph, and by Chris Blanquera, founder of Openovate.com. Galleon.ph itself would not be launched until July of 2012.
Jeffrey explains:
Galleon.ph is an e-commerce website which sells products that are not available locally. Think of Amazon.com but just items you can't find in malls or local marketplace. On a business perspective though, we are basically a payment gateway, logistics, and customer support built into one. We don't maintain any inventory at the moment given we are using a dropship model. The reason we are so successful in building our database is because we have access to our supplier's database of products which is in the millions.
Indeed, one look at the Galleon website and you can tell this isn't your average online buying site. As I mentioned recently, many local daily deal sites seem to have the very same deals, promos and packages, reshuffled and recycled on each site.
Galleon is all about exclusivity. How exclusive you ask? How about Native American ceremonial peace pipe exclusive? Or a Panda-themed chopsticks practice kit! Or maybe you've been searching high and low for a Boska Holland Raclette Quattro cheese cutter?! Whether there are actually people who'll buy these things, there's no denying you'd be hard pressed to find these items anywhere else.
Again, from Jeffrey:
The idea started late last quarter of last year when a friend of my partner at Awesome.ph called me up to see if I was interested in doing an e-commerce website. I said it was too broad of an idea so we had to refine it in order to offer something different. We sat down and tried to understand why people [Filipinos] shop in the US. We discovered two reasons: it was cheaper, including shipping and taxes, or we don't have it here in the Philippines. We went for the latter one because it offered a more unique selling proposition plus it won't hurt the existing licensed distributors here.
To start, you must register using your Facebook account. With that out of the way, you're now free to browse Galleon's extensive selection of exclusive products. You'll notice however, that some products are not priced. This means that the item is listed, but not held in stock. This is by no means the end of the road though, as a price can be requested for you personally.
Once your cart is full, payments can be made via direct deposit through BDO (Banco De Oro), credit card, GCash, or Smart Money. Speaking of credit card payments, Galleon strays from the usual PayPal route and instead utilizes Asiapay. And because almost all of the products on offer are sourced from the US, expect delivery in 10 to 15 days for Metro Manila, plus three more days for provincial areas.
Jeffrey adds:
The greatest challenge for us is building the brand. Customers have a difficult time understanding the concept of Galleon.ph given that it's not a traditional e-commerce website. Equally challenging is to change the perception of customers that transacting online is safe.
One minor detail to note is in the layout of the site itself. Though all items are illustrated, the label on some of the items can be a bit confusing, since the complete name of some products are not completely displayed. For example, I came across one item in particular, advertised as the POSRUS Wacom Intuos 5 Touch. I've actually always wanted to get one of these, but the regular price of PHP 18,300 (US$443.57) has always been discouraging. So to find it on Galleon for only PHP 1,458 (US$35.34) immediately made my heart pump. You can imagine my dismay when I opened its description page and found it was actually the POSRUS Wacom Intuos 5 Touch 'Medium Pen Tablet Surface Cover'. Yes, just the cover. Maybe not a huge bug on the site, but it can be a bit of a letdown.