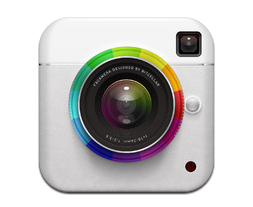 A few weeks back we told you about Japan-based Bitcellar, whose FxCamera for Android had past the impressive milestone of 20 million downloads. At that point we also learned that the company had an iPhone version in the works, and now finally it has been released in the App Store. The Android version originally launched back in mid 2009, so the iOS version has been a long time coming.
Interestingly, the iOS version includes what appears to be a new function. There's now a 'voice picture' feature that allows you to slide and hold the shutter button in order to record video. Unfortunately, I'm not sure what format the resultant pictures take, since there currently appears to be a bug that does not allow these sound photos to be shared. The company says it has almost finished a fix for this, so hopefully you can try it out soon [1].
Coincidentally, yesterday we featured another photo application from Japan for iOS called Voice Pic which performs the same kind of function.
FxCamera's other functions are similar to those of its Android cousin, with including 'Toycam,' 'Fisheye,' and 'Symmetric' shooting modes.
If you'd like to give it a try for yourself, you can download new FxCamera for iPhone over on the App Store. And if you haven't yet tried the Android version, it's still available over on Google Play.
---
On the app page, the official explanation is as follows: "We just found bugs that don't let some of you post photos on facebook through FxCamera, and fixed version is almost ready. Please wait for the update." I couldn't share with Twitter either, so I assume that is affected too.  ↩