Data and statistics are typically pretty boring. But with FusionCharts, data can be sexy and attractive. Founded in 2002, FusionCharts is one of most successful stories in India's start-up history.
Today it serves major clients like Google, LinkedIn, Fortune 500 corporations, and even U.S President, Barack Obama. If you're familiar with Google Docs, the chart-gadget within is powered by FusionCharts. Internally, Google employees also use FusionCharts for reporting.
Founder and CEO of FusionCharts, Pallav Nadhani explained to me that back then, people were using boring Excel-type charts for reporting. he figured this wasn't the best way to present information, and thought it would be cool to make the data pretty and digestible.
"We pioneered the very concept of Flash charting (which was mostly used to make jazzy banners and website intros back then but nothing too serious) to create animated & interactive charts," said Pallav.
FusionCharts is typically targeted to developers who wish to integrate interactive charts in their reports, dashboards, analytics, monitors, and surveys.
---
When I was seventeen…
---
Amazingly Pallav was just 17 years old when he founded FusionCharts. He was writing about technology for a
blog
where he happened to have a chance to create a charting library using Flash, combined with ASP to power it with data. At that time, developers loved what they saw and had a lot of ideas on how it could be more powerful and useful. Subsequently, Pallav coded this idea into a charting application, which led to the birth of FusionCharts.
Pallav explains his current service thusly:
FusionCharts v3 helps you create animated & interactive charts for web & enterprise applications. It is the industry's leading enterprise-grade charting component that functions seamlessly on PCs, Macs, iPads, iPhones and a majority of other mobile devices.

It leverages Flash and JavaScript (HTML5) to create stunning charts, and works with both XML and JSON data. It can be integrated with any server-side technology (ASP, ASP.NET, PHP, JSP, ColdFusion, Ruby on Rails etc.) and database.
---
FusionCharts continues to grow
---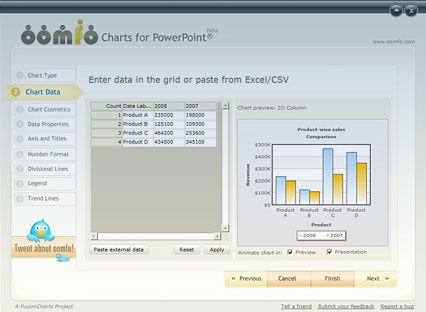 Today FusionCharts has over 50 team members including developers, support, sales, and marketing personnel and it continues to expand rapidly. It also recently set up a new office in Bangalore (the
Silicon Valley
of
India
) to meet growing demand. Pallav revealed that his company currently has 18,000 customers and 375,000 users across the world.
Pallav's success is achieved without having investors to financially back his company. Pallav practically bootstrapped his way up to an absolutely epic win.
FusionCharts will also be introducing several new products, including oomfo, a FushionCharts for SharePoint and PowerPoint. "We're also working on a mid-market reporting component called FusionReport for LAMP stack, which we intend to announce soon," he said.
That's a seriously awesome start-up journey, Pallav. Nice one.