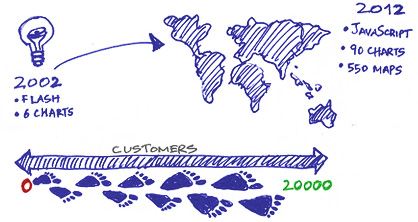 I interviewed the founder of India-based FusionCharts, Pallav Nadhani, about a year ago. It was great fun documenting his story. As we noted then, story of FusionCharts started when he was age 17. He found charts boring and thought they could be made sexier and more interactive.
He founded FusionCharts in 2002 and since then, the product has been used by some big names in the web world, including Google (Google Docs), LinkedIn, and Weather.com. FusionCharts also proudly claims that it is powering over one billion charts each month globally. It is also a highly profitable business, I hear. All this was achieved without any funding. FusionCharts bootstrapped its way to success, and that kind of success is hard to come by these days.
One billion charts is no small feat. Here at Tech in Asia, our team is fans of charts made from Google Docs. You can see them embedded on our site from time to time. But FusionCharts is more than just charts on Google Docs. It could also be used for customized reports and dashboards for businesses. To make it easier for folks to learn more about FusionCharts, Nadhani and his team have recently launched a beginners guide for the service. Sanket Nadhani, the lead author of the book told me:
Packt, famous for its practical guides in the web dev space (especially on niche technologies) was looking for authors to write a book on FusionCharts on Twitter and we were like – hey, it's our book and we could do a decent job of it. A couple of emails and phone calls later, we decided to make it the official guide to FusionCharts.
You can find out more info about the book here.
FushionCharts looks to be moving quickly with big plans. It plans to launch Collabion, a charting solution exclusively for SharePoint by the end of this quarter. It is also working on Oomfo, a charting plugin exclusively for PowerPoint. By October this year, FusionCharts will officially be a ten-year old company. We certainly think it has been pretty productive so far!