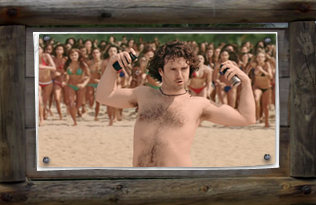 Want to create a viral ad but lack inspiration? How about creating parodies?
Specsavers tried it and enjoyed huge success. The ad is a parody of another viral ad titled, "The AXE Effect – Women – Billions" (over 3 million views), in which a throng of women dashed and swam towards a guy, who was vigorously spraying Axe deodorant on his body.
Specsavers created the exact same ad, except the women were turned off by the spectacle instead. The ad ended with a line of promotional texts that spotted the same typeface as the original.
Just 3 weeks after launch, the ad has gathered over 600,000 views. An impressive statistic + guaranteed good laugh.
'The Specs Effect' Advert (parody)
The AXE Effect – Women – Billions