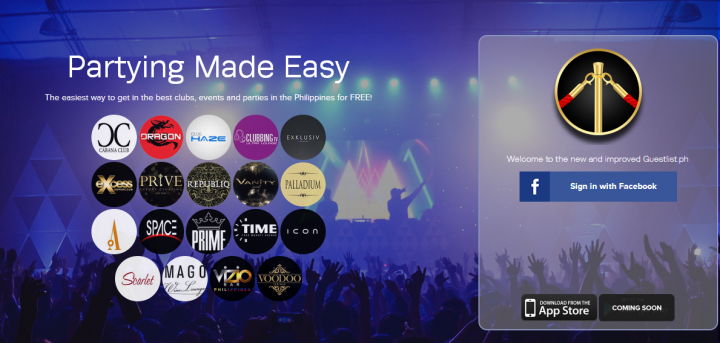 Philippine startup Guestlist is on a mission to make clubbing a better experience through technology. But despite getting more than 23,000 registered users, startup founder Ronster Baetiong faced tons of rejections and failure before getting to where he is today.
Guestlist, an app that puts users on guest lists at Manila's clubs, started in 2009 as a college thesis by Baetiong. Since this was the same year that Facebook became huge in the Philippines, he thought of creating a Facebook for clubbers. As a regular party-goer himself, he knows how tough it is to get in line or talk to club promoters just to get into a club to have fun.
Baetiong's professors were then skeptical about his business idea, but he went ahead. He rolled out the first version in 2009 and by mid–2010, he has already gained around 10,000 users. But the tricky part was, he was sending the names of people manually to each of the clubs and he wasn't earning from all these efforts. So he decided to shut down the site.
Then, he put up a revamped version of Guestlist in 2012, but he dumped the site again after a few months. He says:
I was really down and was in debt. It's the biggest risk I took. I only have a few savings and I invested on a crappy website. After the first MVP, I didn't have money.
Making Baetiong sadder was the fact that he had been rejected twice by Philippine incubator Kickstart Ventures.
(See: Threatened by Instagram, photo app Molome survived thanks to a startup accelerator)
Standing tall from the fall
He did not give up. Despite the failures, he continued to believe in his idea and sought to learn from his mistakes. He says:
I didn't lose hope because I knew that I was making an impact. If whatever I was doing didn't get people interested, they wouldn't be using it. If people were willing to shed money for a crappy website, what more if I had a kickass website?
And it was when he did Guestlist for the third time that he finally nailed it. This time he got the attention of Kickstart and got funded around five months after its launch. This was also the time that he decided to shift his monetization from the partner clubs to the users themselves. He explains:
"If I'm going to make money, it's from the people that I impact the most – the users. The clubs will still get traffic and we'll have a harmonious relationship together. If not for the clubs, I can't get my users to the parties."
"I figured things out and learned from my mistakes. When I say I'm going to get it done, I'll get it done. If there's something about me, it's that I never give up."
When he pitched to Kickstart, he already had around 7,000 registered users, and through collaboration with web development platform ProudCloud, Guestlist created a brand new website. By the end of the year, it rose to 18,000 users.
Today, Baetiong is now looking to grow his business. He aims to get 100,000 users by the end of the year and to expand in different key cities in the Philippines.
Despite tweaking his business, he is still making Guestlist for the average party goer who can't always get into clubs. And like any startup, making it work has been a combination of technology and good relationships.
The right attitude towards failure is "all about resilience and perseverance," he says.