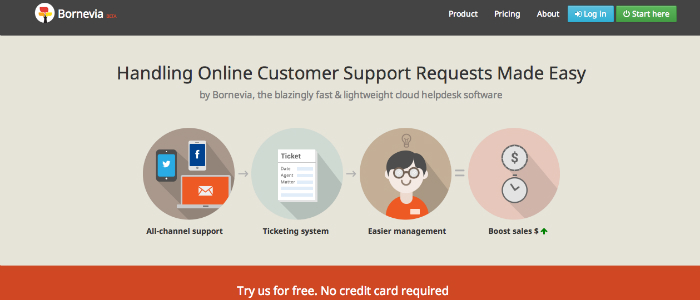 There aren't a lot of Indonesian startups whose founders had working experience at a Silicon Valley company, so when we stumble across one of them, we make sure we pay attention. In this case, the startup in question is Bornevia, a web-based helpdesk startup which assists companies with their online customer support challenges.
Still in its beta phase, the team explains that Bornevia is "a customer support CRM (customer management relationship) tool with an integrated contacts directory and a ticket management system." Users can integrate their social media and email accounts on Bornevia, and then manage interactions with their customers from there.
Users can set the status of each interaction, for example, whether it has been completed or still in progress. These tasks can also be shared and assigned among other users. Furthermore, you get to see interaction histories between users and helpers.
The founders behind this are Benny Tjia and Tjiu Suryanto. Tjia studied at University of Michigan and Stanford and then worked at Yammer as a software engineer. Suryanto studied at Washington State University, worked in the US as an embedded system engineer, and later held a stint working at Astra International in Jakarta.
Both founders feel that there's still a big market in the CRM space in Asia Pacific, and that's why they're building Bornevia. The duo has secured seed round angel investment from an undisclosed local angel investor for that purpose.
Cracking the competition
Tjia singles out Desk, Help Scout, and Zendesk as competitors. He argues that Bornevia's better pricing point, as well as its additional features could prove to be the product's key differentiator.
Another strategy the team is implementing is that they want to make Bornevia the "very simple stripped-down version of Zendesk". Tjia explains:
There are complex SLA, Macros, and other complicated features that are not actually necessary or can be wrapped into a much simpler workflow. We focus on one thing only: handling inbound online customer requests as fast as possible and cutting down response times.
Some of the upcoming features in Bornevia will include a chat platform that lets users and visitors communicate in real time, as well as folder categorizations by users and channels.
Some of the current beta users for Bornevia come from Indonesia, India, South Africa, Canada, and USA. Right now Bornevia is free with limitations, but it will open its unlimited version soon for $12 per-user every month.
(Editing by Josh Horwitz)