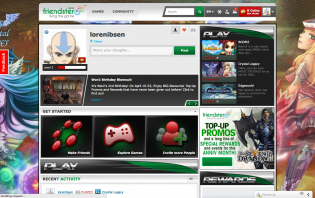 Well, here's a fun surprise. Remember Friendster? The social network that used to be the social network before it was eventually acquired by MOL who went on to flip its social patents for a tidy profit? Well MOL just announced today that Friendster has been overhauled as a social discovery and gaming platform.
MOL Groups CEO, Ganesh Kumar Bangah, elaborated on Friendster's metamorphosis:
By leveraging on Friendster's strongest asset in the form of its millions of users and harnessing MOL's strength as a e-payments and content distributer, we were able to successfully redesign Friendster to become a social discovery and gaming platform, host to the largest online community in Southeast Asia.
Coming back to the site for the first time in years, I was surprised to see that you can login to Friendster with your Facebook credentials. In addition, when posting status updates you can also check a box to double-post to Facebook. You can also import friends from Facebook and common mail accounts. (The Facebook integration seems a little ironic to me, as they were the buyers of MOL's afore mentioned social patents.)
As for the social gaming aspect, there is currently a range of over 50 games, including single-player, multi-player, and MMO titles; spanning across genres like adventure, arcade, strategy, role-playing, and card games. My esteemed colleague Charlie will be delighted to hear that they even have a Three Kingdom's game! Users can chat while playing games, as well as earn rewards for certain activities, like adding friends or playing games.
According to the announcement, Friendster will be hosting a big game event this Friday at the SM North Cyberzone Activity Area in Manila, The Philippines. Indeed, the Philippines appears to be a big focus for the network, as that has always been a stronghold among its membership. COO Nikolai Galicia commented:
[I]t is a joy to roll out Friendster's inaugural event here, to a community that is continuously growing. We are committed in continually bringing the latest content and giving the most compelling rewards to our users.
It will be interesting to see how this rebirth goes for Friendster. Social gaming has been lucrative for other players, and with MOL's expertise in payments processing, the service shouldn't encounter too much friction in getting users to shell out for virtual goods and other in-game purchases.