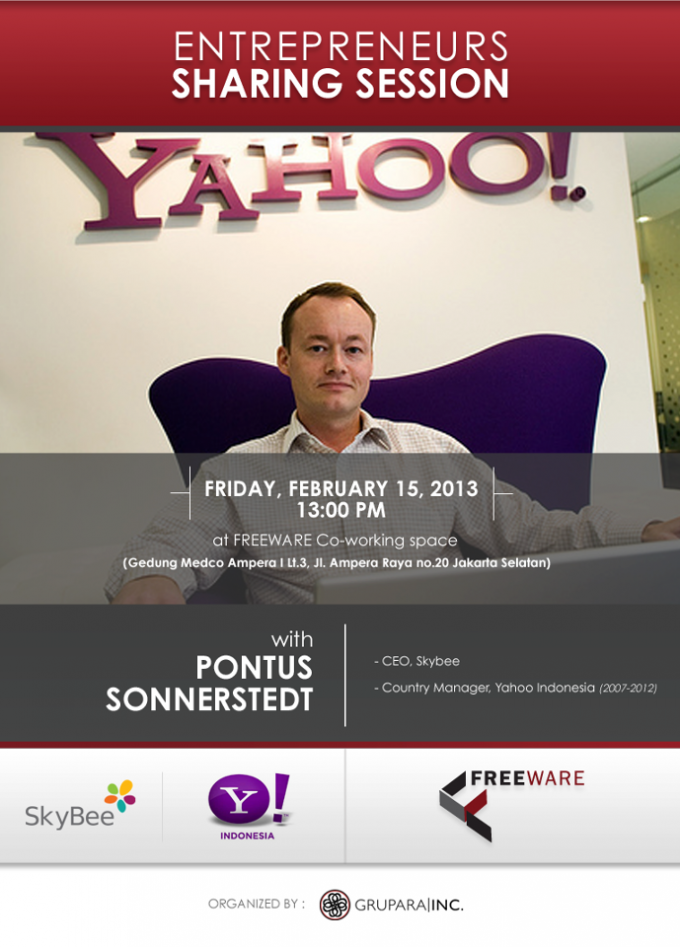 Freeware is a free co-working space in Indonesia's capital, Jakarta, powered by venture capital firm Grupara and public energy company Medco Energi. Officially opened last month, Freeware also holds regular sharing sessions to talk about different topics every week from well known speakers in the startup industry. Best of all, all of the sharing sessions are free.
Here's the speakers' list for the next few sessions:
February 15th – Pontus Sonnerstedt, Skybee CEO and former Yahoo Indonesia country manager
February 22nd – Andrew Darwis, Kaskus founder
March 1st – Stefan Jung, Southeast Asia's Rocket Internet managing director
Pontus' session on Friday will be about talent recruitment, but the discussion may end up on other topics too. The sharing sessions are open to the public, with each session limited to 12 participants to make the interactions more personal. Each sharing session usually lasts between one to three hours. I'd say that the sharing sessions are perfect not only to gain knowledge, but to expand your entrepreneurial network too.
The team plans to invite not only speakers from the technology industry, but also from other entrepreneurial industries as well as government officials. The speakers list for the following month will be revealed on the third week of every month.
Freeware itself is still open to interested startups looking to have a nice office for free. The co-working space is located in the MEDCO Ampera building in South Jakarta. Out of the 16 working spaces there, 10 of them are still available. Freeware also offers a library, meeting space (with Apple TV-compatible streaming), internet, and parking spaces. Donations of any kind are welcomed.
You can find Freeware's full address and register for the sessions here.